Description
These blank non-rotatable flanges are for sealing off ports, for drilling custom interfaces, feedthrus, or other accessories, and for modifications of vacuum equipment. These reliable, knife-edge flanges are the vacuum industry standard for ultra-high vacuum applications. They utilize flat OFHC copper gaskets for vacuum sealing below 10-13 torr at temperature ranges from -196 degrees C to 500 degrees C. Manufactured from Type 304 stainless steel, all flanges will perfectly mate to other Conflat flanges of the same O.D.
Other flange types and sizes are available on request. Custom drilling, modifications, welding and fabrication are also available from our machine shop. Call SIS with your requirements or send drawings for a quotation.

                

Blank Non-Tapped Flanges
Part No.
OD (in)
Thickness (in)
# Bolts
Bolt Diameter (in)
Bolt Cir Diameter (in)
Cu Gask
Price
EA
Order
133X000
Blank Non-Tapped Flange
1.33
0.28
6
0.172
0.060
CG-300
$12.00
212X000
Blank Non-Tapped Flange
2.12
0.470
4
0.265
1.625
CG-400
$19.50
275X000
Blank Non-Tapped Flange
2.73
0.500
6
0.265
2.132
CG-500
$24.00
450X000
Blank Non-Tapped Flange
4.47
0.680
8
0.332
3.628
CG-1000
$47.50
600X000
Blank Non-Tapped Flange
5.97
0.780
16
0.332
5.128
CG-1500
$65.00
675X000
Blank Non-Tapped Flange
6.75
0.840
18
0.332
5.969
CG-1800
$110.00
Blank Tapped Flanges
Part No.
OD (in)
Thickness (in)
# Bolts
Bolt Diameter (in)
Bolt Cir Diameter (in)
Cu Gask
Bolts
Price
EA
Order
275X000T
Blank Tapped Flanges
2.73
0.500
6
0.265
2.312
CG-500
1/4-28
$20.00
* Standard lead-time for non-stock items is approximately two weeks depending on the item.
Ordering information. International (non-US) prices available through your local dealer.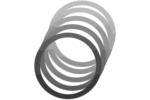 Copper and Gold Plated Cu Gaskets for Thermo/Finnigan MS
The following copper and gold plated copper gaskets are available for the vacuum flanges on Thermo/Finnigan mass spectrometers.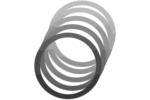 Copper Gaskets for HP Mass Specs
All gaskets are .080" thick.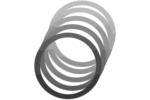 VG Copper Gaskets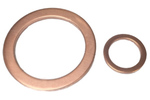 Copper Gaskets for Vacuum Flanges
The below listed vacuum flange copper gaskets are made from OFHC copper.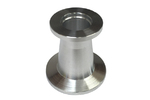 QF to QF Reducers, Aluminum
QF to QF Reducers, Aluminum fittings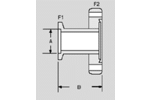 QF to Varian Type Conflat Flange Stainless Steel
Stainless union for connection NW flanges to Varian type conflat flanges.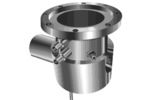 Thermo/Finnigan MAT Vacuum Flange Repairs
A variety of repairs and modifications can be performed on Finnigan MAT mass spectrometer flanges.
Vacuum Electrical Feedthrus
The following electrical feedthrus can be TIG (tungsten inert gas) welded into vacuum flanges to permit transfer of electrical lines into a vacuum system.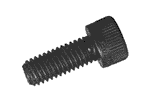 Flange Hardware