Description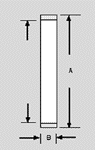 For O-ring retention when operating at internal pressures exceeding atmospheric pressure.
Overpressure Rings, 304 Stainless
Part No.
A
B
C
Max PSIG
Price
EA
Order
QF10050OPR
1.25
1.09
0.14
100
$8.00
QF16075OPR
1.25
1.19
0.35
100
$8.00
QF25100OPR
1.66
1.58
0.35
100
$8.50
QF40150OPR
2.25
2.17
0.35
75
$9.50
QF50200OPR
2.75
2.62
0.15
50
$11.00
* Standard lead-time for non-stock items is approximately two weeks depending on the item.
Ordering information. International (non-US) prices available through your local dealer.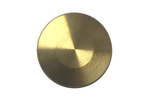 Blank Flanges in Brass, Aluminum and Stainless
In Brass and Aluminum and Stainless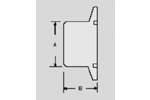 Flange - Unbored Stub in Stainless, Aluminum and Brass
In Stainless, Aluminum and Brass.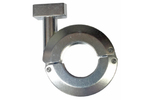 Quick Flange Clamp, Aluminum and Stainless
Quick action aluminum clamp with finger closure "T" knob for positive sealing of NW flanges.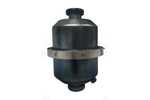 Stainless Steel Oil Mist Eliminator
Hermetic, Sealed, In-line Oil Mist Separator For Mechanical Vacuum Pumps.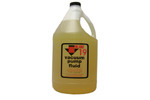 Inland® 19 Rough Pump Oil
Inland rough pump oil is ideal for use in all models of vacuum pumps including Adixen, Edwards, and Welch.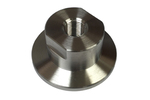 Adaptor Flange to 1/8" NPT in Stainless and Brass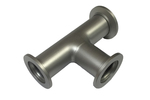 QF Stainless Steel Tees
Three NW flanges permit the union of several pump lines.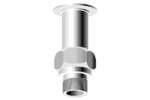 Stainless Welch Pump Adaptor
This stainless steel adaptor replaces the inlet hose connector and comes complete with a metal gasket.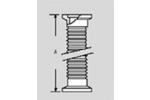 QF to Flexible SS Metal Hose
Thin Wall - 10", 20", 40" & Thick Wall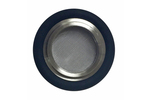 Centering Ring Assembly, 304 Stainless With Screen
Features Viton® O'Ring and 72 mesh screen.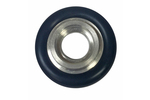 Adaptive Centering Ring Assembly, 304 Stainless and Aluminum
Available with Viton® or Buna O-ring, this reducing centering ring is for joining two different size NW flanges with a quick flange clamp.