Description
The OPTI-GUARD was designed to eliminate the time required to verify performance and troubleshooting. Everything from the packing to the dimensions have been selected for optimal performance across multiple brands of analytical columns and diverse laboratory applications. Even when used with narrowbore analytical columns, no change in efficiency will occur.Direct connection to the analytical column and the stem containing the frits and packing ensure that added extracolumn volume is minimized. No additional fittings or tubing requirements means less potential dead volume.
Features
No holder needed
Step filtration design
Color coded
Compatible with any 10-32 column - tube stem automatically adjusts to fit all brands of columns, assuring perfect zero-dead-volume connections
Simple hand-tight connection
No bigger than most hand-tight fittings - attaches directly to the column, fitting into most column heaters
Specs

Overall dimensions: 3/8" diameter x 1" long
1.5 cm x 1 mm packed bed
6,000 psi pressure rated
Step filtration (order of sample flow): 5 µm frit > packing > 2 µm frit
Also available: 5 µm frit > 2 µm frit > packing > 0.5 µm frit
Available in reverse and normal phase chemistries
Packed with proprietary OPTI-GUARD packing materials.
Materials
Techtron® PPS (Polyphenylene Sulfide)
Passivated 316 SS
PEEK
All materials used in the manufacture of the OPTI-GUARD are inert to most HPLC solvents.
Optimize OPTI-GUARD Guard Column - 5/PK
Part No.
Type
Color
Price
/PK
Order
100200007
C18
Violet
$297.84
100200010
C8
Yellow
$297.84
100200014
Silica
Orange
$297.84
100200018
Phenyl
Green
$297.84
100200022
CN
Blue
$297.84
100200026
NH2
Red
$297.84
100200030
Anion Exchanger
Black
$297.84
100200034
Cation Exchanger
White
$297.84
Unit of measure for ordering is PK.
* Standard lead-time for non-stock items is approximately two weeks depending on the item.
Ordering information. International (non-US) prices available through your local dealer.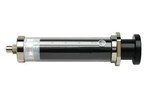 Gas Tight 1 mL to 100 mL Syringes
SGE gas tight syringes in many sizes and functions.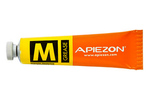 Apiezon® M Greases
All stopcocks and movable joints in a high vacuum system must be satisfactorily lubricated, yet leak proof.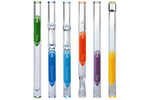 SGE GC Injection Port Liners
SGE offers a wide variety of injection port liners.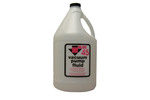 Inland 45 Mechanical Pump Oil
Inland 45 is the highest quality rough pump oil you can use for your mass spectrometer.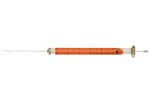 SGE Autosampler Syringes
Autosampler Syringes available in dual and cone tip.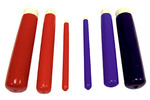 Spun Fiberglass Cleaning Brushes
Fiberglass brushes are manufactured from spun glass in two grades of material - coarse and fine.