Description
Opti-Lynx™ Connectors
Finally, true, trouble-free quick-connect hardware for HPLC!
What's new from the innovators at Optimize Technologies? Opti-Lynx! The world's only low dispersion, high pressure quick connect system for HPLC is now available from SIS.
Some Special Applications
MULTIPLE DETECTORS

If you're using two different defectors and often switch from one to the other, pick up an extra Bayonet Connector for each detector inlet line, and terminate the column outlet line with a Holder Cap and a short Holder tube. You'll be able to switch detectors in seconds! A column plug can also be used to snap on to the Bayonet connector for the defector not in use, keeping it sealed and free of debris.

COLUMN SWITCHING

To set up a simple column switching system without the need for expensive high-pressure valves, simply install OPTI-LYNX Universal Port Adapters and Column Plugs on columns that will eventually be used in the flowpath for rapid column switching (pressure must dissipate prior to disconnection.)

SWITCHING FROM GUARDS TO FILTERS (AND BACK)

If you use OPTI-LYNX™ Filter Inserts or Sealing Elements at the top of your column and want to switch to OPTI-LYNX™ Guard Cartridges instead, all you need to do is remove the Short Holder Tube from the Holder Cap, install a Guard Column Holder Tube, and order the OPTI-LYNX™ cartridges you require!Replacement OPTI-LYNX™ Sealing Elements and Filters (both in-line and pre-column) can be ordered using these part numbers. Note that Filter inserts are available in two different diameters: • 0.062" OD: For most precolumn filtration applications especially for smaller ID analytical columns. • 0.156" OD: For in-line filtration applications. Can also be used as higher capacity precolumn filter on larger ID columns (4.6 mm) when extra-column volume is less of an issue.
Assembly
Now you can make and break High Pressure connections in seconds or reconfigure your HPLC system without tools. A quarter turn is all you need to assure leak-free connections to your analytical column, in-line filters, guard column or anywhere you frequently change components. Here's how it works:
I. Start by connecting your existing tubing to an OPTI-LYNX Holder Cap using the included fingertight fitting.

II. Then, tighten a slotted Holder Tube into the Holder cap. There are two Holder Tubes of different lengths to choose from one for OPTI-LYNX guard column cartridges, and one for filtration elements and straight-through (union) connections.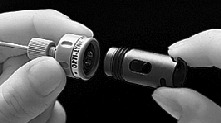 III. For every plug, there's a socket, and for every OPTI-LYNX Holder Tube, there's a Bayonet Connector. We have Bayonets for making ZDV connections to any analytical column (our Universal Port Adapter) and Bayonets that adapt to 10-32 fingertights, for use in-line anywhere on your HPLC system.

IV. When it's time to bring the two halves of OPTI-LYNX together for a high-pressure, quick-connect seal, all you need is an OPTI-LYNX insert. Choose a guard column cartridge, a precolumn or in-line filter, or a sealing element for straight-through connection.

Kits
OPTI-LYNX™ Column Connector Kits
When a guard column is not required, OPTI-LYNX Column Connector Kits bring quick-connect convenience to any 10-32 analytical column. Use one Column Connector Kit at the top of the column for fast and easy connection with integral pre-column filtration, and another at the bottom of the column with a sealing element for a straight-through connection to the detector cell.The basic holder set is the same whether or not you require filtration. Simply add the correct two letter extension to the part number below: CD or CE for PEEK-encased stainless steel filters, or AB for Sealing Elements.
Opti-Lynx™ Column Connector Kit With Filter Insert


Opti-Lynx™ Column Connector Kit with Sealing Element


Components
All OPTI-LYNX hardware components are available for separate purchase. Having additional components on hand can increase the utility of the OPTI-LYNX system. Here are some examples:

1102290AA

1102293AA


1102212AA


1102333AA


1102327AA


1102328AA

Part No.
Description
Picture
Quantity
In Stock
Price
EA
Order
1102226AB
Opti-Lynx Connector Kit, Includes: Universal Port Adapter; Holder Cap/Holder Tube; 1 Sealing Element
DISCONTINUED
---
---
Components
1102290AA
Opti-Lynx Universal Port Adapter, (for 10-32 Female Ports)
DISCONTINUED
---
---
1102293AA
Opti-Lynx Column Plug, Fits Bayonet (Pinned) Opti-Lynx Hardware
DISCONTINUED
---
---
1102212AA
Opti-Lynx Bayonet Connector, with 10-32 Female Ports
DISCONTINUED
---
---
1102333AA
Opti-Lynx Holder Cap
DISCONTINUED
---
---
1102327AA
Opti-Lynx Short Holder Tube (for filter inserts/sealing elements)
DISCONTINUED
---
---
1102328AA
Opti-Lynx 15mm Guard Column Holder Tube (for Guard Column Cartridges)
DISCONTINUED
---
---
1102307AB
Opti-Lynx Sealing Element (use when no filter is required)
DISCONTINUED
---†

5 or more: 5% off; 10 or more: 10% off.

---
† Quantity discount 5 or more: 5% off; 10 or more: 10% off.
* Call for availability.
Ordering information. International (non-US) prices available through your local dealer.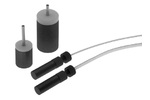 VICI Mobile Phase Filter/Sparging Frits
Sparging Frits for your lab needs.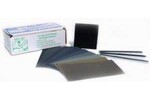 Micro-Mesh® Metal Finishing Kit
Micro-Mesh® kit for polishing stainless steel, copper, brass, bronze, aluminum and other soft metals to a mirror finish.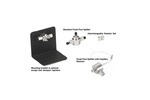 ASI QuickSplit™ Fixed Flow Splitters - Binary
Split ratios are created by two or more fluid resistors that form a parallel flow path.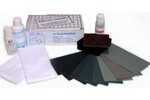 Micro-Mesh® NC-78-1 Acrylic Restoral Kit
Micro-Mesh® Acrylic Restoral Kit.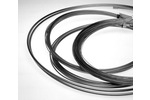 Stainless Steel Tubing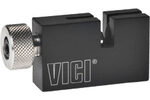 Tubing Cutter for Chromatography
Chromatography Tools available from Scientific Instrument Services, Inc.