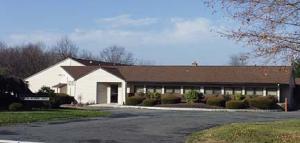 The main office of Scientific Instrument Services is located at 1027 Old York Rd. Ringoes NJ 08551-1054 in the clearly marked brown building shown at right.
Google Maps
Directions
MapQuest
Directions to the SIS main office are available from MapQuest:
From Newark, NJ Airport
From Newark Airport Exit, follow to Route 78
Take 78 West to 287 South (approx. 27 miles)
287 South to Somerville Exit, (206/202 South)
To Somerville Circle, take 202 South to Flemington (approx. 20 miles)
To Flemington Circle, continue on 202 South (approx. 5 miles)
Look for sign on right shoulder, Ringoes Business District
Next intersection with traffic light, Schaffernoth's Nursery on right
Make right onto Route 179
About 1/2 mile after intersection, brown sided builded clearly marked,
Scientific Instrument Services
From Philadelphia , PA Airport
From Philadelphia Airport Exit, follow signs to Route I 95
At Colwyn bear right onto Route I 95 North (towards Philadelphia & NJ)
Remain on I 95 North over Scudders Falls Bridge ( crosses into NJ) (approx. 35-40 miles)
Remain on I 95 to Route 31 Exit (approx. 5-7 miles)
Take Route 31 North
Go around the Pennington Circle, remaining on Route 31 North
Continue on Route 31 North to Route 179 North (after you go under Rte. 202 overpass)
You are now in Ringoes
Continue straight on Route 179 North for a mile or so
Left hand side, brown sided building clearly marked,.
Scientific Instrument Services
If you come to a traffic light, you have gone too far.
We also have a machine shop in Pipersville, Pennsylvania.