Features
For gentle cleaning, burnishing and deburring of all surfaces
Electrical Contacts
Circuit Board Connectors
Rust Removal
Small Instrument Parts
Paint Removal
Motor Armatures
Deburring Metal Parts
Description
These stick type brushes from ERASER have plastic protective coverings and are available in diameters of 1/4" (6mm), 5/8" (16mm) and 1" (25mm). Fiberglass brushes are manufactured from spun glass in two grades of material - coarse and fine. A gentle brushing action cleans and polishes a variety of surfaces metallic and non-metallic. Brushes will not contaminate or alter the electrical properties of the surfaces cleaned. Ideal for cleaning printed circuit boards, precious metal surfaces, electrical contacts, solder joints, motor commutators or removing epoxy, epoxy adhesives, rust, paint oxidation, corrosion, etc. May also be used for cleaning and polishing of plastic molds. Protective covering is cut back as brush wears, enabling entire brush length to be used.
Applications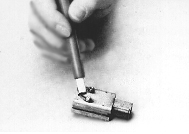 De-burring Metal Part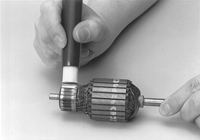 Commutator Cleaning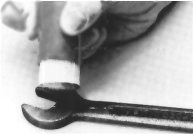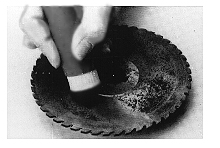 Rust and Corrosion Removal

P.C.B. Edge Connector Cleaning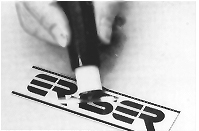 Removing Paint, Printing
Fiber Eraser Brush
Part No.
OD(in)
Grade
pkg of
Picture
UOM
Price
Order
AA0104
1/4
Fine
1
EA
$36.00
AA0022
5/8
Fine
1
EA
$45.00
AA0023
1
Fine
1
EA
$52.00
AA0130
1/4
Coarse
1
EA
$36.00
AA0129
5/8
Coarse
1
EA
$45.00
AA0128
1
Coarse
1
EA
$52.00
AA0123
Mixed
Mixed
6
PK
$261.25
* Standard lead-time for non-stock items is approximately two weeks depending on the item.
Ordering information. International (non-US) prices available through your local dealer.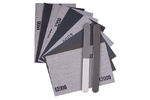 Micro-Mesh® Sheet Kits
Micro-Mesh® Craftsman Kits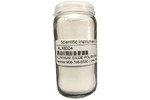 600 Grit Aluminum Oxide Cleaning Abrasive
The ALX6004 superfine aluminum oxide cleaning abrasive is the finest grit aluminum oxide abrasive.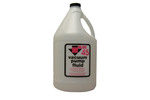 Inland 45 Mechanical Pump Oil
Inland 45 is the highest quality rough pump oil you can use for your mass spectrometer.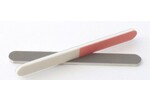 Micro-mesh Polishing/File Board