Description
Serum vials are lighter weight than molded bottles. More closely held tolerances and uniformity of glass allow the clear vials to be lyophilized. Sizes range from 2 mL to 30 mL. Enhanced by the most popular GPI aluminum seal finishes, this line offers a variety of choices. Vials are available in KG33 and amber 203 borosilicate glass. Autoclavable Kimble serum vials are ideally suited for handling, containment, and storage of a variety of liquids including reagents, vaccines, blood plasma, culture media, chromatography samples,and more. Aluminum seals, stoppers, and septa are available separately.
Part No.
Description
Quantity
In Stock
Price
/Case
Order
62113D2
MISSING PART NUMBER
CALL
62113D312
MISSING PART NUMBER
CALL
62121D5
CLEAR 5ML SERUM 864/CS CLEAR KG-33 BOROSILICATE GLASS
INACTIVE
---
---
62121D10
MISSING PART NUMBER
CALL
62121D20
MISSING PART NUMBER
CALL
62113U10
TUBING 13MM 10ML CL 1085 TUBING VIAL 13MM 10ML
INACTIVE
---
---
Unit of measure for ordering is Case.
* Call for availability.
Ordering information. International (non-US) prices available through your local dealer.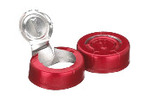 Wheaton Cloures - Tear Off
This seal can be completely removed and the contents readily poured from the bottle. 22419201 : -,22419205 : -,22419206 : -,22419207 : -,22419301 : -,22419305 : -,22419306 : -,22419307 : -,22419701 : -