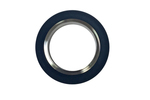 Centering Ring Assembly, 304 Stainless and Aluminum
Available with Viton® or Buna O-ring, this centering ring complete with O-ring should be used when joining any two NW flanges with a quick flange clamp.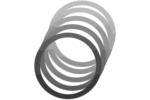 Copper and Gold Plated Cu Gaskets for Thermo/Finnigan MS
The following copper and gold plated copper gaskets are available for the vacuum flanges on Thermo/Finnigan mass spectrometers.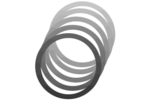 Varian Ion Trap Copper and Gold Plated Copper Gaskets
S.I.S. carries copper and gold plated copper gaskets for the Varian Saturn.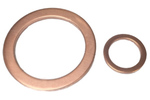 Copper Gaskets for Vacuum Flanges
The below listed vacuum flange copper gaskets are made from OFHC copper.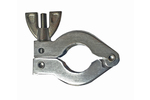 Wing-Nut Aluminum Clamp
Industry standard die-cast aluminum clamp.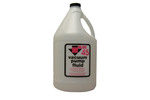 Inland 45 Mechanical Pump Oil
Inland 45 is the highest quality rough pump oil you can use for your mass spectrometer.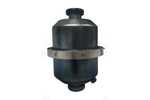 Stainless Steel Oil Mist Eliminator
Hermetic, Sealed, In-line Oil Mist Separator For Mechanical Vacuum Pumps.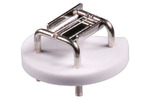 Filament Repair Services for Mass Spectrometers
Mass Spectrometer filaments and heaters can be repaired and restored to a like-new condition at S.I.S.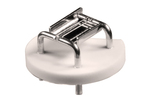 Thermo, Varian Saturn, Agilent, Teledyne & Hitachi Ion Trap Filaments
Quality replacement filaments for your Ion Trap mass spectrometer. For Saturn model 2000, 2100, 2200 series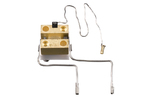 Perkin Elmer / Torion / Hitachi Filament Repair
All RMU filaments and heaters are repairable.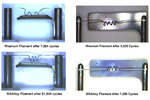 SISAlloy® Yttria/Rhenium Alloy MS Filaments
SIS introduces their new Yttria Rhenium alloy filament wire. In these studies we have discovered that by alloying Rhenium with a small concentration of Yttria, the crystal structure of the rhenium material was altered, which resulted in a stronger filament that is much less susceptible to warping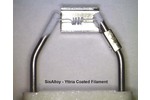 Long Life Yttria Coated SISAlloy® (Yttria/Rhenium Alloy) Mass Spec Filaments
SIS can repair your filaments with our non-sagging filament wire (SISAlloy® yttria/rhenium alloy with yttria coating). Users have experienced filament lifetime increases of 2 to 3 times compared to the standard uncoated rhenium filaments.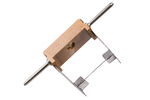 Agilent/HP Filament Repair at SIS
We will completely clean the assembly and replace the rhenium filament wire.