Product ID : FP7
FP7 CAPILLARY PROBE TUBE SPRINGS 2 DAYS FINNIGAN #30014-21658
Description
More details on associated web pages:
Thero/Finnigan MAT 3200 Capillary Probe Tube Springs

3000 and 3200 series probes (30014-21658)

Thermo/Finnigan Part Number Cross Reference

Scientific Instrument Services carries a wide selection of parts for all models of Thermo/Finnigan mass spectrometers. In order to aid you in the selection of replacement parts for your instrument, the following part number cross reference chart can be used. If a part number is not listed, it either means we do not have that part in our inventory or perhaps we are not aware of the Thermo part number in relation to our inventory. If you are looking for a part not listed below, use our Search Syst...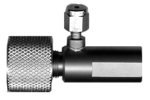 Thermal Desorption Sample Loader
This device is used to inject or load liquid samples directly into the S.I.S. Thermal Desorption Tubes, forcing the syringe contents onto the adsorbent resins in the desorption tube without any loss of sample due to back evaporation.