Product ID : W2V60110
W2V60220 Voltage=220V W2V60 50/60HZ W2V60110 Voltage=110V W2V60 50/60HZ
Features
Low Cost - Save 35 - 50%
Quiet and Light Weight

Precise machining eliminates noise and vibration levels

Air Cooled
Fast Pumping
Direct Drive
Gas Ballast Valve
Voltage Choices: 110V or 220V
Comparable to Edwards E2M28 & Adixen 2033 Series
Reliable - 20 years of history
Applications
Ideal for
Mass Spectrometers
GC/ICP Mass
Vacuum Degassing
Freeze Drying
Cryogenics
Vacuum Distillations
Surface Coating
Laser Construction
Vacuum Ovens
Electron Microscopes
Drawings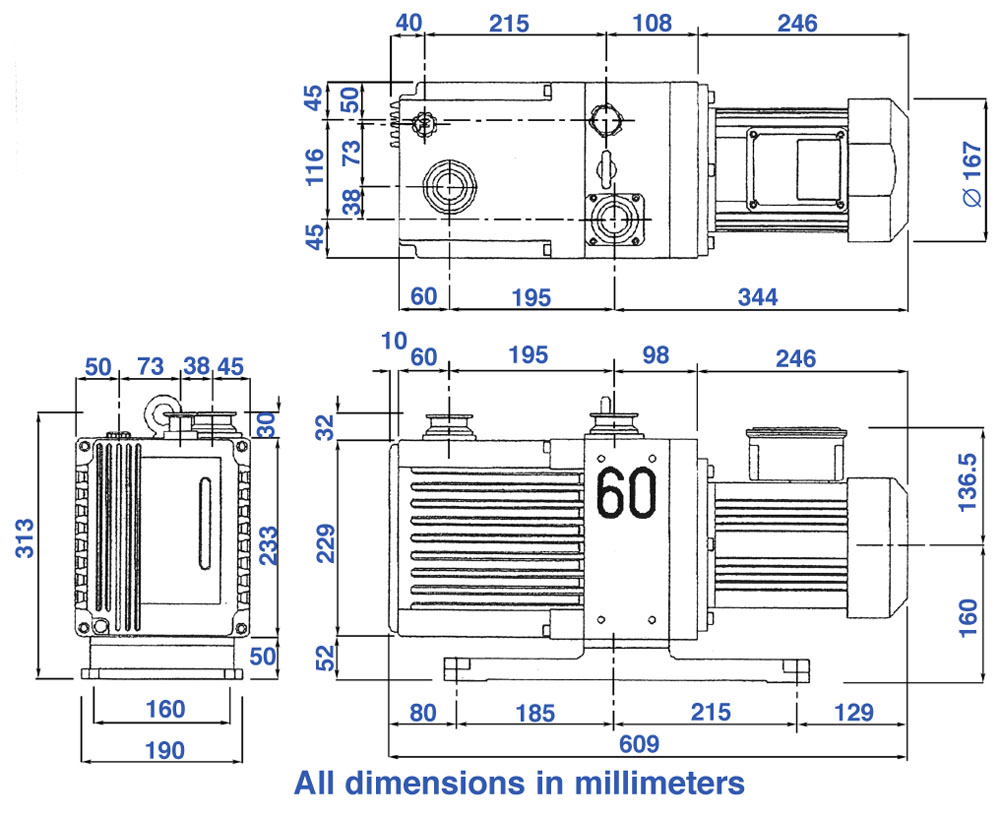 Specs
Technical Data
Pumping Speed
600 L/min (21 CFM)
Ultimate Pressure - Gas Ballast Closed
5 x 10-4 torr (6.7 x 10-2 Pa)
Ultimate Pressure - Gas Ballast Open
5 x 10-2 torr (6.7 Pa)
Power Input
220 VAC/ 110 VAC 50/60 Hz; Customer's Request (Voltage, Frequency and Phase)
Full Load Power
1.5 kW (2.0 HP)
Motor Speed
1700 rpm
Inlet and Outlet connections
NW40
Oil Capacity
2300 cc (2.3 L)
Weight
51.5 kg
Ambient Operation Temp. Range
7-40 °C
Overall Dimension (mm)
206 (W) x 609 (L) x 251 (H)
**THIS PUMP SHOULD NOT BE PLUGGED DIRECTLY INTO THE AGILENT MSD. USE ALTERNATE POWER SOURCE/WALL OUTLET.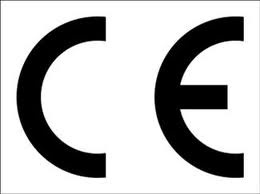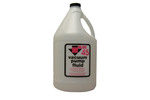 Inland 45 Mechanical Pump Oil
Inland 45 is the highest quality rough pump oil you can use for your mass spectrometer.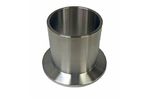 Long Butt Flange In Stainless and Aluminum
In Stainless and Aluminum.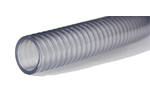 Rollerflex Vacuum Hose
PVC cord reinforced vacuum hose. Light weight, low cost, and superior corrosion resistance. Ideal for mass spec, food, and other applications.