Description
The CFT Series traps are an effective design, which reduces mechanical pump backstreaming to the vacuum chamber. The activated OFHC® copper media is held in place by stainless steel screens which are recessed to allow maximum conductance while accomplishing high trapping effectiveness. Using CFT Series traps will result in a cleaner system that will ensure longer operation cycles before service is necessary. CFT traps need no bakeouts or cooling and are maintenance free. Stainless steel media can be provided by adding "-SS" to the suffix of the part number at no additional cost.
Features
Eliminates Hydrocarbon Backstreaming
Operates in Any Position
No Bakeout Required
304 Stainless Steel Body
Activated OHFC® Copper Media
Coaxial Foreline Trap
Part No.
Body OD (in)
Tubulation
Intended Pump Size (CFM)
Price
EA
Order
SAT505
2 1/2
1/2in OD tube to 1/2in OD tube
1
$436.00
SAT755
2 1/2
3/4in OD tube - 3/4in OD tube
5
$150.00
CFT75
4
3/4in OD tube - 3/4in OD tube
7
$155.00
CFT100
4
1in OD tube - 1in OD tube
11
$165.00
CFT150
4
1 1/2in OD tube - 1 1/2in OD tube
25
$175.00
CFT200
4
2in OD tube - 2in OD tube
25
$205.00
SATNW1675
4
NW16 flange - 3/4in OD tube
7
$149.00
CFT752K
4
NW16 flange - NW16 flange
7
$235.00
CFT1002K
4
NW25 flange - NW25 flange
11
$235.00
CFT1502K
4
NW40 flange - NW40 flange
25
$185.00
CFT2002K
4
NW50 flange - NW50 flange
25
$225.00
* Standard lead-time for non-stock items is approximately two weeks depending on the item.
Ordering information. International (non-US) prices available through your local dealer.
Description gives BODY OD, TUBULATION, and intended PUMP SIZE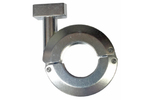 Quick Flange Clamp, Aluminum and Stainless
Quick action aluminum clamp with finger closure "T" knob for positive sealing of NW flanges.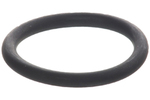 Viton® Composition O-Rings
O-Rings are available in five different materials from Scientific Instrument Services.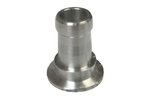 Hose Adaptor, Aluminum
For connecting rubber or plastic hose to NW flanges.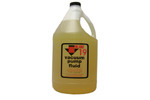 Inland® 19 Rough Pump Oil
Inland rough pump oil is ideal for use in all models of vacuum pumps including Adixen, Edwards, and Welch.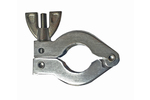 Wing-Nut Aluminum Clamp
Industry standard die-cast aluminum clamp.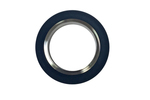 Centering Ring Assembly, 304 Stainless and Aluminum
Available with Viton® or Buna O-ring, this centering ring complete with O-ring should be used when joining any two NW flanges with a quick flange clamp.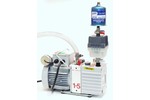 Vacuum Pump Exhaust Filter Kits for Edwards Vacuum Pumps - FK251
For Edwards models E2M0.7, E2M1, E2M1.5 pumps removes contaminants from vacuum pump exhaust.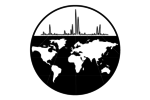 Nickel Wire and Ribbon - Filament and Heater Material
Nickel wire provides good corrosion resistance. It is most suitable for use in electronic components, temperature sensors, electrical resistance thermometers and other electrical applications.