Product ID : A37122902P
HPP7011MSD Options=EDWARDS PUMP E2M1.5 MSD MSD SPECIAL POWER CORD|Voltage=220 V A37122919P Options=EDWARDS E2M1.5 Pump|Voltage=220 V HPP7011 Options=EDWARDS VACUUM PUMP E2M1.5 FOR HPP7 PROBE SYSTEM|Voltage=110 V A37122902P Options=EDWARDS E2M1.5 Pump|Voltage=110 V
Features
This miniature two stage pump features an alternative inlet connection position at the side of the pump so that overall installation height can be reduced to a minimum when required. The interstage version features an additional pumping port to provide a rough vacuum for auxiliary duties. This pump is widely used on mass spectrometers including the Agilent/HP 5971, 5972, 5973, 5975, and 5977.
Specs
Technical Data
Number of Stages
2
Displacement (swept volume) 60 Hz
1.3 ft 3min-1 (2.2 m3h-1)
Speed (Pneurop 6602) 60 Hz
1.2 ft 3min-1 (2.0 m3h-1)
Ultimate vacuum (total pressure)
-gas ballast closed
-with gas ballast

1.1x 10-3 torr (2.5 x 10-3mbar)
1.9 x 10-2 torr (2.5 x 10-2mbar)
Inlet connection
NW10 flange
Outlet connection
Nozzle 11 mm external diameter removable from hole tapped 3/8" BSP
Maximum allowed pressure at outlet
7 psig (0.5 bar gauge)
Maximum inlet pressure for water vapor
11 torr (15 mbar)
Maximum water vapor pumping rate
0.16 kgh -1
Motor power 60 Hz
1/4 hp (0.16 kW)
Noise
54dB(A)
Oil Capacity – maximum
- minimum
0.28 liter
0.20 liter
Weight
22 lbs (10 kg)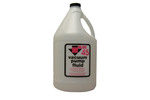 Inland 45 Mechanical Pump Oil
Inland 45 is the highest quality rough pump oil you can use for your mass spectrometer.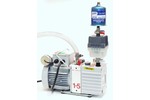 Vacuum Pump Exhaust Filter Kits for Edwards Vacuum Pumps - FK251
For Edwards models E2M0.7, E2M1, E2M1.5 pumps removes contaminants from vacuum pump exhaust.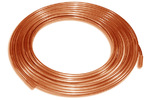 Copper Tubing
Flexible 1/8" copper is a convenient, non-permeable means of supplying GC carrier gas, Helium for sparging HPLC reservoirs, detector gas supplies, etc.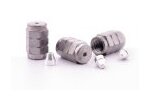 SGE Ferrules for GC
standard graphite ferrules (for GC applications)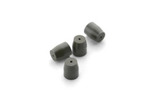 SGE Graphitized Vespel® Ferrules
Vespel® ferrules contain 15% graphite and are ideal for glass and fused silica capillary columns.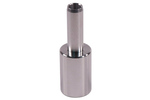 Koby Fitting - KF1
1/4" Pipe to 1/2" Hose Fitting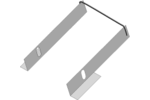 Agilent/HP MS 5970 MSD® and 599X Series Filament
New filaments for your Agilent 5970 MSD.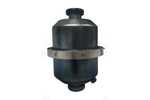 Stainless Steel Oil Mist Eliminator
Hermetic, Sealed, In-line Oil Mist Separator For Mechanical Vacuum Pumps.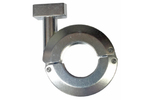 Quick Flange Clamp, Aluminum and Stainless
Quick action aluminum clamp with finger closure "T" knob for positive sealing of NW flanges.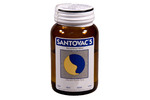 Santovac 5 polyphenyl ether vacuum pump fluid
Santovac 5 is the industry standard oil for diffusion pump.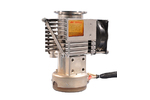 Edwards EO50/60 Diffusion Pump
The Model EO50/60 is a compact, fast warm-up air-cooled diffusion pump supplies complete with high integrity inlet Co-seal, and flange clamping ring. The jet assembly is removeable for easy cleaning.