Product ID : A65401906
A65401906 RV8 with 110/220 Universal Motor
Enhanced Performance for Analytical Instrumentation
Description
To meet the requirements for high throughputs with low ultimate vacuum, Edwards has developed a totally new concept in rotary vacuum pumps. The world's first dual-mode pump.
The unique dual-mode action allows you to easily configure the unit to pump very high gas loads and also achieve excellent vacuum - all from a single pump. In most cases it increases performance at significantly reduced noise levels.
This radical operation is matched by innovative design features including a cartridge based pumping mechanism incorporating advanced new materials, a fully featured Edwards motor and a fast acting inlet valve to seal the pump for suck-back protection.
The pumps are easy to install, use and maintain with superior built quality to give lowest cost of ownership. To build a pump this advanced, Edwards has invested heavily in state-of-the-art manufacturing and assembly technology in a dedicated ISO9001 factory.
To meet the stringent requirements for ever quieter environments we have built into the Edwards RV range the results of an extensive program of noise research into the Pump, drive train and motor. This has reduced both overall noise levels and improved the subjective quietness by "tuning out" those frequencies which are both intrusive and irritating. Before shipment each pump is tested in a quiet room using a noise spectrum analyzer.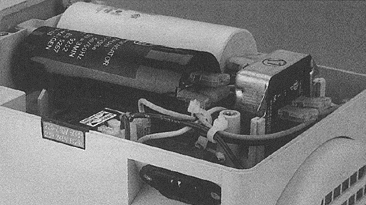 Edwards RV - easy to install, use and maintain
Installation is easy as all Edwards RV pumps feature a special dual voltage, dual frequency motor with an IEC mains input socket. Simply plug in the appropriate cable. No need for hard wiring. An on/off switch controls the pump.
Motor voltage is determined by a simple rocker switch, enabling the pump to be easily configured for use internationally.
All controls are clearly marked and have large finger grips for ease of use. Inlet and outlet are both fitted with standard NW25 flanges.
No special tools are required for servicing. The shaft seal can be changed or repositioned without dismantling the pump. Easy dismantling for cleaning is a feature. In addition, we provide service kits of guaranteed Edwards parts.
Features
Selectable dual mode

high vacuum for best pressure
high throughput mode for continuous inlet pressure above 50 mbar

Easy to use gas ballast
ON-OFF switch on pump
Low Noise Level: 48 dbA
All pumps factory tested and certified
Easy to service and maintain>
High torque, dual voltage, dual frequency motor
Specs
Note: The vacuum pump accepts both 110 VAC and 220 VAC power when using an appropriate power cable.
Please specify the desired cable for your country when ordering.
Otherwise, a 110 VAC North American (NEMA 5-15) power cable is provided.
Displacement (swept volume) M3h-1
RV8
50Hz
9.7
60Hz
11.7
Speed (Pneurop) m3h-1
50Hz
8.5
60Hz
10.0
Ultimate vacuum (total pressure) mbar - high vacuum mode
gas ballast 0
2x10-3
gas ballast I
3x10-2
gas ballast II
6x10-2
Ultimate vacuum (total pressure) mbar - high throughput mode
gas ballast 0
3x10-2
gas ballast I
4x10-2
gas ballast II
6x10-2
Ultimate vacuum (partial pressure) mbar - high throughput mode
gas ballast 0
10-4
Maximum water vapour pumping rate kgh-1 1ph (3ph)
gas ballast I
0.06 (0.04)
gas ballast II
0.22 (0.12)
Maximum permitted pressure at outlet - bar gauge
I
Inlet connection
NW25
Outlet connection
NW25
Max. weight kg (without Oil)
26.0
Noise dB (A)
50Hz. I ph
48
Motor power (W)
50Hz.
250
Motor power (W)
60Hz.
550
Oil capacity (litre)
max.
0.75
Oil capacity (litre)
min.
0.45
Dimensions
| PUMP | A | B | C | D | E | F | G | H | J | K | L | M |
| --- | --- | --- | --- | --- | --- | --- | --- | --- | --- | --- | --- | --- |
| RV8 | 470 | 158 | 221 | 161 | 35 | 78 | 230 | 120 | 69 | 42 | 19 | 261 |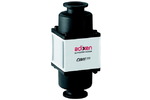 Oil Mist Eliminators
Reduce chance of computer head crashes and Prevent carcinogenic and caustic fume emissions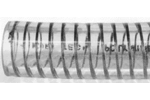 Steel Wire Reinforced Vacuum Hose
This food and beverage grade, crystal clear PVC tubing is reinforced with 110 ton psi steel spring wire.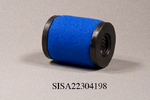 SIS Replacement Elements For Edwards Oil and Odor Filters - EMF10
SIS Replacement Elements For Edwards Oil and Odor Filters at a low cost.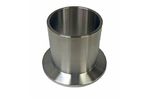 Long Butt Flange In Stainless and Aluminum
In Stainless and Aluminum.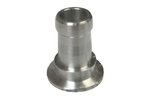 Hose Adaptor, Aluminum
For connecting rubber or plastic hose to NW flanges.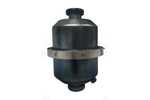 Stainless Steel Oil Mist Eliminator
Hermetic, Sealed, In-line Oil Mist Separator For Mechanical Vacuum Pumps.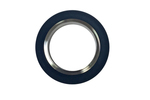 Centering Ring Assembly, 304 Stainless and Aluminum
Available with Viton® or Buna O-ring, this centering ring complete with O-ring should be used when joining any two NW flanges with a quick flange clamp.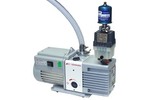 Vacuum Pump Exhaust Filter Kits for Edwards Pumps - FK201
Vacuum Pump Exhaust Filter for Edwards Pumps