Description
The Plastic Safety Shields have been constructed for the S.I.S. Purge & Trap System. The Shields are designed to slide into the groove milled into the Purge & Trap System Base. Two heights of the safety shields are available. The 5.5" high shields are for use with the 5.0 mL sampling tube or other sample tubes of similar size. The 7.5" high safety shields are for use with the 25 mL sampling tubes. In addition to the standard straight safety shields, two additional models are available with slots in the top part of the back side for use with sampling tubes with septa side arm ports. Other sizes and styles can be custom manufactured by S.I.S. on request. Please call or write with your requirements.
Features
Two sizes available for 5 mL and 25 mL Purge Sampling Tubes
Two styles available for standard and side arm sample tubes
Constructed of tough clear acrylic plastic for visibility and safety
Outside Diameter of 2.0" fits in groove in liquid purging system base
Safety Shield
Part No.
Description
Price
EA
Order
783012
5.5in high, for 5.0 mL tube
$42.00
783013
5.5in high, for 5.0 mL side arm tube
$56.75
783014
7.5in high, for 25 mL tube
$49.25
783015
7.5in high, for 25 mL side arm tube
$65.00
* Standard lead-time for non-stock items is approximately two weeks depending on the item.
Ordering information. International (non-US) prices available through your local dealer.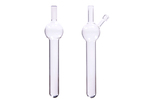 Purge and Trap Glass Tubes, 5 & 25 mL
All tubes are constructed from borosilicate glass with 0.5" O.D. tube ends for mating with standard 1/2" fittings.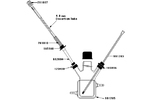 Wheaton Purge and Trap System
The Wheaton Purge and Trap Apparatus is widely used for the isolation of pollutants in soil, sediment, waste water, and other solid and liquid samples by purging a clean gas over and thru the sample contained therein and trapping the purged volatiles on adsorbent traps.
Cleaning Brushes
For cleaning inside Silco Coated desorption tubes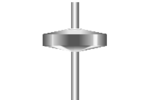 Purge and Trap Sparging Needles
A variety of lengths of the stainless steel sparging needles are available for the S.I.S. Purge & Trap system.
Stainless Steel Metal Frit Spargers for the Purge & Trap System
The stainless steel metal frit spargers have been designed for use with the S.I.S. purge and trap system.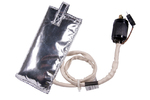 Heater Sleeves for Sample Purging System
Compact Portable Temperature Controller with Thermocouple Feedback Control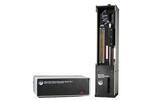 Short Path Thermal Desorption Accessories Supply Kit
When ordering the Short Path Thermal Desorption System, a wide range of systems and accessories are available depending on the application requirements of the user.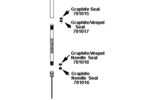 Seals for SIS Thermal Desorption Tubes
Seals are utilized in a variety of locations in the Short Path Thermal Desorption Unit.