Features
Designed for Air Sampling thru SIS Desorption Tubes
Ultra compact size
Ultra low flow 5 - 200 cc/min
Back Pressure to 25" of H2O
LCD clock display
Fault Flow Indicator
RFI shielding case
UL and OSHA approved
One year warranty
Adaptor fitting for SIS Thermal Desorption Tubes
Flow fault indication LED
Battery check LED
Belt clip
Dual filtration system
External flow adjust
Intrinsic safety
Description
The LFS-113 provides for constant flows between 5 to 200 mL/min at variable back pressures up to 25" of H2O for use in pumping air or gas samples through the S.I.S. Short Path Thermal Desorption Sampling Tubes. Flows are adjustable via an external flow adjustment, and once sampling begins flow remains constant over variable back pressure from 0 to greater than 25 inches of H2O. An adaptor fitting and hose for SPTD tubes and a battery charger is included with the Air Sampling Pump Kit.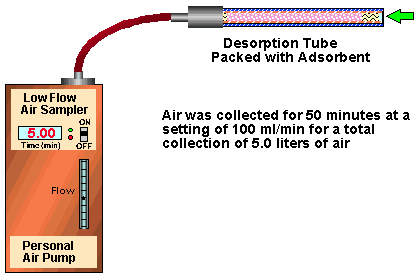 Low flow - dual modes
The LFS is an ultra low flow sampler designed for air sampling on the SIS Thermal Desorption Sample Tubes.
Constant flow mode sampling
Ideal for single or "in-series" tube sampling providing constant flow rates from 5cc to 200 cc/min. The flow is adjusted through the sampler with an adjust flow screw.
The pump will automatically maintain the flow set over the constant flow range at back pressures up to 25" H2O.
External flow adjust
Externally adjustable flow control valve, settable over the full range of the flow.
Flow fault indication LED
A latching fault function is standard on all LFS-113 samplers. An LED fault indicator will light if the unit is operated outside its performance range. If the fault is not corrected within approximately 30 seconds, the pump will shut off and the LED will remain lit. The time will lock and display the time at which the fault occurred, ensuring a valid sample. If the fault condition is cleared, the LED will extinquish and the unit will continue to operate normally.
Battery check LED
When the unit is turned on, an LED indicator signals to show that the battery will provide a minimum of eight hours service over the operating range.
Rechargeable battery pack
The LFS has a rechargeable battery pack system which makes it completely portable. Battery packs are recharged via a standard 120V charger.
Dual filtration system
The dual filtration system provides an internal pump filter providing a needed backup to prevent destructive gas and moisture vapors from entering and damaging the sampler. The inlet filter is easily unscrewed and filters replaced for preventive maintenance protection.
Intrinsic safety
UL approval for use in hazardous locations Class I Groups A,B, C, D, Class II Groups E, F, G, and Class III for explosive gas and dust atmospheres.
Warranty
The LFS sampler is guaranteed for one year against defects in parts and/or workmanship.
Elapsed time clock
A time elapsed clock provides for accurate timing and valid sampling data. If the unit should fault, the clock will latch the time and indicate on the display. When the fault is cleared the sampler may be re-started and the clock will begin a new timing sequence.
RFI shielding case
This sampler is provided with an EMI-RFI shielded case to dissipate electromagnetic and radio frequency interference, protecting the pump electronics and ensuring valid sampling data. Pumps have been designed to dissipate EMI between 13.5 MHz and 495 MHz at the exposure level set by ANSI C95. 1-1982.
Specs
Operating range
5-200 cc/min, back pressure to 25" H2O
Pressure range
Back Pressure up to 25" H2O
Flow control
±5% of set point.
Battery System
Rechargeable, plug in, 4.8V 500 MAH NiCad battery pack. Designed to meet all UL requirements. Internal charging external charging with adapter)
Size
2-1/2" W x 1-3/8" H x 4-5/8" L
Weight
12 ounces
Temperature
Operating: -20 °C to 45 °C
Storage: -40 ° to 45 °C
Charging: 5 ° to 45 °C
Part No.
Description
ID (in)
OD (in)
Quantity
In Stock
UOM
Price
Order
914000
Model LFS-113 Air Sampling Pump 3ft of tubing includes Battery pack, battery charger, and adaptor fitting #781010
0*

Standard lead-time for non-stock items is approximately two weeks depending on the item.

EA
$1364.00
Accessories
800086
Replacement Battery Pack
---
---
DISCONTINUED
EA
---
---
800093
Replacement Filter Kit, Pkg of 3
---
---
DISCONTINUED
PK
---
---
316TT
Heavy Wall Tygon Vacuum Tubing, (price per foot)
3/16
9/16
DISCONTINUED
Foot
---‡

10 or more: 10% off; 100 or more: 27% off.

---
781010
S.S. Desorption Tube Hose Connector
---
---
DISCONTINUED
EA
---
---
‡ Quantity discount 10 or more: 10% off; 100 or more: 27% off.
* Standard lead-time for non-stock items is approximately two weeks depending on the item.
† Call for availability.
Ordering information. International (non-US) prices available through your local dealer.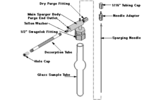 Purge and Trap Stainless Steel Purge Heads
The top fitting of both purge heads consists of a 1/16" fitting for the attachment of the sparging needle followed by needle adaptor to seal the needle in place and provide for the attachment of the purging gas line.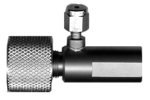 Thermal Desorption Sample Loader
This device is used to inject or load liquid samples directly into the S.I.S. Thermal Desorption Tubes, forcing the syringe contents onto the adsorbent resins in the desorption tube without any loss of sample due to back evaporation.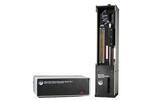 Short Path Thermal Desorption Accessories Supply Kit
When ordering the Short Path Thermal Desorption System, a wide range of systems and accessories are available depending on the application requirements of the user.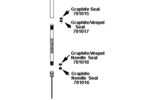 Seals for SIS Thermal Desorption Tubes
Seals are utilized in a variety of locations in the Short Path Thermal Desorption Unit.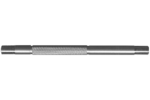 Short Path Thermal Desorption Tubes
After conditioning and sample loading, the ends of the tubes are fitted with stainless steel caps with seals to maintain the integrity of the medium and sample.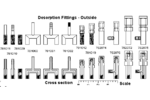 Desorption Tube Fittings
Fittings to connect our 1/4" O.D. GLT desorption tubes to your particular application.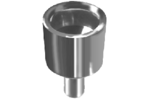 Aluminum Funnel for Loading Packings into Desorption Tubes