Description
For the most efficient sparging of liquid samples
They consist of a 1/16" O.D. stainless steel capillary tube attached to a 5.0 micron porous stainless steel frit. This provides for a tiny bubble sparger to efficiently sparge the volatiles from liquid samples. Two sparger lengths are available. The 16 cm length is for use with the S.I.S. 5.0 mL sample tubes and the 22.5 cm length is for use with the S.I.S. 25.0 mL sample tubes.
The capillary tube is held in place in the adaptor fitting with standard 1/16" graphite or graphitized / Vespel® ferrules.
Indicate # of packages.
Part No.
Description
UOM
Price
Order
783041
Purge and Trap Stainless Steel FRIT Sparger, 16 cm long
EA
$101.00
Accessories
072623
1/16 in Graphite Ferrules, pkg of 10
PK
$32.40
072657
1/16 in Graphitized / Vespel Ferrules, pkg of 10
PK
$42.90
* Standard lead-time for non-stock items is approximately two weeks depending on the item.
Ordering information. International (non-US) prices available through your local dealer.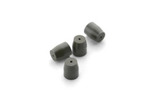 SGE Graphitized Vespel® Ferrules
Vespel® ferrules contain 15% graphite and are ideal for glass and fused silica capillary columns.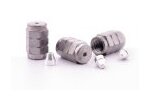 SGE Ferrules for GC
standard graphite ferrules (for GC applications)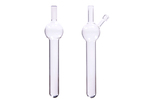 Purge and Trap Glass Tubes, 5 & 25 mL
All tubes are constructed from borosilicate glass with 0.5" O.D. tube ends for mating with standard 1/2" fittings.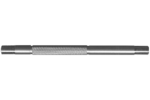 Short Path Thermal Desorption Tubes
After conditioning and sample loading, the ends of the tubes are fitted with stainless steel caps with seals to maintain the integrity of the medium and sample.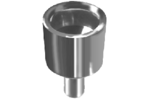 Aluminum Funnel for Loading Packings into Desorption Tubes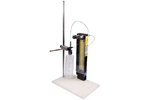 SIS Purge and Trap System
The Purge and Trap System consists of two single-ball rotameters with adjustable needle valve mounted on a nylon plastic base with an 18" long mounting rod support.