Description
The Model 3810 Series has been improved to meet the demands of the gas chromatographer. The Model 3810 Series has been long established as a standard in the laboratory and processing facilities as a high purity corrosion resistant product. The dual stage design of the product ensures accurately delivered pressures over the usable life of gases in cylinders.
The Model 3810 Series regulators are recommended for use in applications requiring high purity delivery of gases in a non-corrosive or semi-corrosive environment at a constant outlet pressure. These applications typically include use of the regulators for analysis of samples, calibration standards, semiconductor applications and doping applications. The Model 3810 Series is compatible with gases that are non-corrosive or semi-corrosive in nature and gases that are compatible with the materials in the process stream.
Features
316 Stainless Steel construction
Equipped with an outlet diaphragm valve with integral compression tube fitting
Metal to metal seals throughout
Bonnet threaded for panel mounting as standard
Specs
Maximum Inlet Pressure:
3000 psig (20,700 kPa)
Maximum flow Rate
(At 2500 psig, N2):
Model 3810: 450 CFH (200 LPM)
Model 3813: 130CFH (60 LPM)
Flow Coefficient (Cv):
0.05
Operating Temperature:
-40 to 165 °F (-40 to 74 °C)
Porting:
1/4" NPT female
Porting Configuration:
2 high, 2 low
Materials of Construction
Body:
316 Stainless Steel
Bonnets:
Nickel Plated Brass
Diaphragms:
316 Stainless Steel
Seats:
1st Stage—Kel-F
2nd Stage—PFA PTFE
Seals:
Metal to Metal
3810 Series - Dual Stage High Purity Stainless Steel Regulators
Part No.
Flow Rate
Quantity
In Stock
Price
EA
Order
3813
130 CFH
DISCONTINUED
---
---
3810
450 CFH
DISCONTINUED
---
---
* Call for availability.
Ordering information. International (non-US) prices available through your local dealer.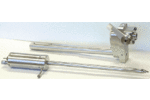 GCQ Probe and Probe Inlet
GCQ Probe and Probe Inlet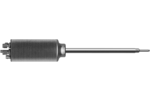 Direct Insertion Probe for HP MS with Controller
A ½ inch probe inlet, provides the user with greater flexibility and much faster ramp rates than the standard HP DIP probe.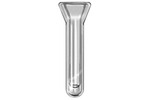 SIS Flared Vials - 10 mm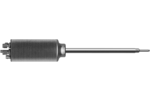 High Temperature Direct Probe for HP and Finnigan MS
The probes can be used from ambient temperature up to 800 degrees C with ballistic temperature ramp of over 700 degrees C/min.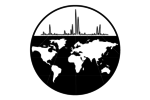 SGE HT5 GC Capillary Columns
Unique high temperature phase suited for simulated distillation and other petroleum applications.