Description
With Glass "Robotic" Stopper
This is a standard 300 mL B.O.D. bottle with a heavy coating of black PVC plastic that blocks all visible light up to 800 nm. This inhibits the production of oxygen by algae. This bottle is recommended for use in marine photosynthesis projects where a comparison of oxygen in a light and dark bottle is required. This is supplied complete with a glass robotic stopper and an opaque black cap.
Ideal for field marine photosynthesis projects
Easily transportable from the field to the lab
Manufactured by Wheaton to the highest standards of quality and precision
Convenience packed - 1-4 dozen bottles per carton
Closures are attached in our Cleanpack facility ensuring safety and cleanliness
Part No.
Diameter (mm)
Height (mm)
pkg of
Quantity
In Stock
Price
/Case
Order
227667
Wheaton 300 mL Black B.O.D. Bottle, With Glass Robotic Stopper
73
167
20
DISCONTINUED
---†

20 or more: 10% off; 50 or more: 15% off.

---
Unit of measure for ordering is Case.
† Quantity discount 20 or more: 10% off; 50 or more: 15% off.
* Call for availability.
Ordering information. (*) Bottles generally sold only in US due to high international shipping costs of bottles.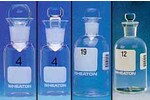 Wheaton B.O.D. Bottles
B.O.D. Bottles are ideal for incubating diluted samples of sewage, sewage effluents, polluted waters and industrial wastes to determine the amount of oxygen required during the stabilization of the decomposable organic matter by aerobic biochemical action.