Description
With Poly-Vinyl Lined Cap
Ideal for field sampling and general lab use
Easily transportable from the field to the lab
Manufactured by Wheaton to the highest standards of quality and precision
Convenience packed - 1-4 dozen bottles per carton
Closures are attached in our Cleanpack facility ensuring safety and cleanliness
Part No.
Size
Cross Sect. (mm)
Height (mm)
Screw Cap Size
pkg of
Quantity
In Stock
Price
/Case
Order
222333
Wheaton Square High Density Polyethylene (HDPE) Jug, With Poly-Vinyl Lined Cap
1 gallon
143
285
38-400
4
DISCONTINUED
---†

20 or more: 10% off; 50 or more: 15% off.

---
Unit of measure for ordering is Case.
† Quantity discount 20 or more: 10% off; 50 or more: 15% off.
* Call for availability.
Ordering information. (*) Bottles generally sold only in US due to high international shipping costs of bottles.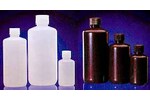 Wheaton Redi-Pak Starline Narrow Mouth Plastic Containers
These premium plastic bottles feature our superior double seal closure which is guaranteed to be leakproof.