Product ID : 8135TP
8135TK Type=3/4 inch Kovar 5 Pin In-line Ion Gauge 8135TP Type=3/4 inch Pyrex 5 Pin In-line Ion Gauge
Description
Tungsten type ion gauges with 5 pin in-line connector plugs are available. Both models in this series will fit the 5 pin, .060" diameter in-line socket, 1/4" on center. These gauges are wired as illustrated.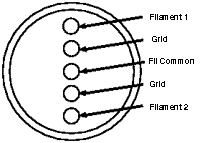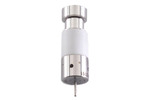 Electron Multipliers, DeTech 2300 Multipliers for Agilent 5975/5973/597X/1100
Get a DeTech 2300 Electron Multiplier here. Used in Agilent 5975 MSD (without TAD)/5973/5972/5971/5970/1100 LC-MSD mass spectrometers and backed by a 100% no-nonsense warranty. Developed by Detector Technology, Inc.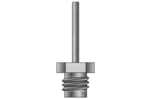 Agilent (Hewlett Packard) 5971 Transfer Line Tip
This new design eliminates any Inlet metal contact with the sample, the capillary column protrudes slightly through the end of the tip directly into the source.