Description
Granville - Phillips Model 475 for accurate low vacuum measurement
Series 475 Convectron gauges provide useful pressure measurement over 7 decades from 10-4 to 1000 Torr, or from 1 x 10-3 mbar to 1000 mbar. This innovation in the art of vacuum measurement is accomplished with a single gauge tube and controller. The Series 475 gauge tube contains a temperature compensated heat loss sensor which utilizes conduction cooling to sense pressure at lower pressures. At higher pressures, it utilizes convection cooling in which gas molecules are circulated through the gauge tube by gravitational force.
Their wide useful range, highly predictable performance and low prices make Convectron gauges an excellent replacement for conventional thermocouple and Pirani gauges. They also are the measurement systems to consider in applications where conventional thermocouple and Pirani gauges have not been suitable because of limited range, or drift, or slow response.
Convectron gauges may be considered for use in certain applications where more expensive gauges such as capacitance manometers would be the first choice were it not for their higher cost.
Convenience and Versatility
The Convectron gauge is designed to give "plug-in-and-read" convenience. No pre-installation calibration is required because it is computer calibrated prior to shipment. It snaps into an instrument panel cutout without tools or hardware.
Convectron gauges offer the following advantages relative to thermocouple gauges:
System performance can be monitored continuously from atmosphere down without pressure blind spots.
Purchase of additional controller and gauge tube models is not necessary if your needs change to different segments of the range.
A much wider range can be covered with one Convectron gauge than with thermocouple gauges.
There is no chance of error that might be caused by using the wrong gauge tube-controller combination. One gauge tube fits all controller models.
NOTE: Due to their wide pressure range, convectron gauges can replace both thermocouple and Pirani gauges.
Features
High performance compact vacuum controller for bench top and panel mount applications
Wide range vacuum pressure measurement from atmosphere to 1 x 10-4 Torr (1 x 10-4 mbar, 1 x 102Pa
Direct replacement for the Series 375 Convectron Gauge Controller
Highly visible Vacuum Florescent Display (VFD)
Highly configurable I/O options including analog outputs, setpoint relays, serial communication interface
Pre-programmed gas curves for N2, Ar, He, CO2, and O2
Intuitive menu control for simplified configuration and parameter setup
Self diagnostics
RoHJS/CE Compliant
Accuracy
The accuracy of Convectron gauges is exceptionally good. Close attention has been given in the design to minimize those factors which produce errors in conventional heat loss transducers.
High Repeatability
Repeatability of Convectron gauges is excellent. For example, in typical tests at constant temperature, Convectron gauges were repeatable to 1/10 millitorr at 1 millitorr (1 x 10-4 mbar at 1 x 10-3 mbar) as measured by a precision digital capacitance manometer.
Fast Response time
The sensor in a Convectron gauge tube operates in an electronic feedback loop which keeps its temperature nearly constant. Thus response time is very fast because components do not have to change temperature significantly as pressure changes.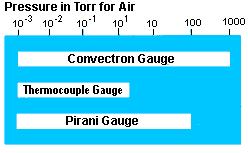 Fig.1 - Comparison of the range of a single convectron gauge with the range of typical thermocouple and Pirani gauges.
Features
Wide Measurement Range
Direct replacement for Series 375 Convectron Controllers and allows vacuum system performance to be monitored continuously from atmosphere to 1 x 10-4 Torr (1 x 10-4 mbar, 1 x 10-2 Pa)
High Measurement Resolution
Designed to take full advantage of Convectron Gauge technology with 1 Torr (1 mbar, 0.1 Pa) resolution at atmosphere and 0.1 mTorr (1 x 10-4 mbar, 1 x 10-2 Pa) resolution at low pressure.
Vacuum Fluorescent Display
The VFD is easier to read from greater distances than other types of displays. The display is configurable to use scientific notation or two ranges (Torr and mTorr, mbar and 10-3 mbar, or kPa and Pa) to provide a continuous measurement readout from atmosphere to low pressure.
Process Setpoint Option
Relay contacts allow control of other vacuum equipment, such as valves, pumps, heaters, alarms, and safety interlocking
Multiple Gas Curves
Selsctable N2, Ar, He, CO2 and O2 gas curves are pre-programmed, eliminating the need for individual calibration when changing the process gas.
Push-Button Controlls
Calibration and setpoint settings are easy to adjuxt using intuitive front panel controls. No special tools are required
Easy-to-use Analog Signals
Provides a one volt per decade logarithmic signal (0 - 7V or 1 - 8V) or a selectable non-linear signal (0 - 9V) that is backwards compatible with older Convectron Gauge controllers
Serial Communication Interface Option
RS-232 interface allows easy integration with computer controlled systems.
Built-in Convectron Gauge Simulator
Simulates a Convectron Gauge, which allows system diagnostics without the need of a vacuum system
Self Diagnostics
the A/D (Convectron Gauge bridge voltage) and analog outputs are continuously monitored for erroneous readings.
Compact 1/8 DIN Controller
Easy to install in space restricted locations.
Rugged All-Metal Package
Provides a high level of immunity to RF noise and is RoHS / CE Compliant
Specs
Technical Specifications
Measurement Range * ‡
Torr
1 x 10-4 to atmosphere
mbar
1 x 10-4 to atmosphere
Pa
1 x 10-2 to atmosphere
Resolution
1 x 10-4 Torr, 1 x 10-4 mbar,1 x 10-2 Pa
Display
Vacuum Flourescent
Update Rate: Every 0.5 sec
Input Power
12 to 24 Vdc, 6 W continuous
Weight
720 gn (25 oz)
Operating Temperature
0 °C to 40 ° ambient, non-condensing
CE Compliance>
Safety
Low Voltage Directive 2006/95/EC, EN61010-1
EMC
EMC Directive 2004/104/EC, EN61326-1:2006
Environmental
RoHS Compliant
Setpoint relays (optional)
Contact Rating
5A at 250VAC resistive load
Range
1 x 10-3 to 1000 Torr, 1 x 10-3 to 1333 mbar, 1 x 10-1 Pa to 1333 kPa
Resolution
2 significant digits
Communicative Interface (optional)
RS-232
Data format
ASCII, 8 data bits, one stop-bit, no parity, no handshake
Baud rate
1200, 2400, 4800, 9600, 19200, 38400, (19200 Default)
Convectron Gauge
Sensor material
Gold-plated tungsten, platinum
Other materials exposed to gas
304 stainless steel, borosilicate glass, Kovar, alumina, NiFe alloy, polyimide
Internal volume
40 cm3 (2.5 in3
Weight
85 grams (3 ounces)
Gauge operating temperature
0 °C to 50 °C ambient, non-condensing
Gauge bakeout temperature
150 °C maximum, non-operating, cable disconnected
Mounting Orientation
Horizontal Preferred
Cable bakeout temperature
105 °C maximum
* Measurements will change with different gases and mixtures. Correction parameters for common gases are provided in the instruction manual.
‡ Convectron Gauges are not intended for use with flammable or explosive gases.
* Controller Only: Purchase cables and tubes separately.
Part No.
Description
Quantity
In Stock
Price
EA
Order
475001AAT
CONTROLLER RS232-0 SET PT
DISCONTINUED
---
---
475001A2T
475 CONTROLLER/TORR/115V RS-232 OPTION, 2 SETPOINT RELAYS, TORR READING
INACTIVE
---
---
IGC475T
475 CONTROLLER/TORR/115V
0†

Lead time for this non-stock item is approximately 30 days.

CALL
IGC475M
475 CONTROLLER/MBAR 115V
0†

Lead time for this non-stock item is approximately 30 days.

CALL
Parts and Supplies
4750081
POWER SUPPLY WALL MOUNT 115 VAC
INACTIVE
---
---
4750083
POWER SUPPLY CE COMPLIANT 220 VAC EUROPE
DISCONTINUED
---
---
47501210
10' CABLE
DISCONTINUED
---
---
47501225
475 CONVECTRON CABLE-25'
INACTIVE
---
---
47501250
MISSING PART NUMBER
CALL
475012100
475 CONVECTRON CABLE-100'
INACTIVE
---
---
475012200
MISSING PART NUMBER
CALL
475012500
MISSING PART NUMBER
CALL
* Call for availability.
† Lead time for this non-stock item is approximately 30 days.
Ordering information. International (non-US) prices available through your local dealer.
* Controller Only: Purchase cables and tubes separately.