Description
(14% Cyanopropyl-phenyl)-methylpolysiloxane
A unique automated process allows VICI to manufacture the highest quality capillary columns at the lowest cost. VICI guarantees their columns will exactly replace or surpass those of the competition while saving you money.
Features
Midpolarity
Low bleed
Excellent inertness
Bonded & cross-linked
Solvent rinsable
Guaranteed
Applications
Drugs
PAHs
PCBs
Pesticides
Phenols
Solvents
Tranquilizers
Replaces
DB-1701, HP-1701, Rtx-1701, BP-1701, 007-1701, CP-Sil 19 CB, SPB-1701 or ZB-1701.
VICI® and ValcoBond® are registered trademarks of Valco Instruments Co. Inc. (VICI) and VICI AG.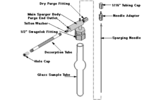 Purge and Trap Stainless Steel Purge Heads
The top fitting of both purge heads consists of a 1/16" fitting for the attachment of the sparging needle followed by needle adaptor to seal the needle in place and provide for the attachment of the purging gas line.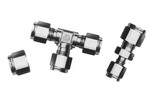 Swagelok® Fittings
A complete line of Brass and Stainless Steel Fittings for GC, MS and general laboratory use.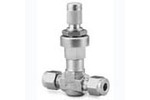 Fine Metering Valves
Fine metering valves are designed to precisely control gas and liquid flow rates in laboratory instruments.