Description
100% methylpolysiloxane
A unique automated process allows VICI to manufacture the highest quality capillary columns at the lowest cost. VICI guarantees their columns will exactly replace or surpass those of the competition while saving you money (up to 35% as compared to the competition). VICI manufactures only MS grade VB-1's, which are sold below standard grade prices.
Features
Nonpolar
Low bleed
MS certified
High temperature limits (360/370 °C)
Excellent inertness
Bonded & cross-linked
Solvent rinsable
Equivalent to USP Phase G2
Guaranteed
Applications
Amines
Flavors and Fragrances
Hydrocarbons
Pesticides
PCBs
Phenols
Sulfur cmpds.
EPA Methods 504, 551 and 1618
NIOSH Methods 1300-1301, 1400-1403, 1450, 1501 and 2005
Replaces
DB-1, DB-1ms, HP-1, HP-1MS, Ultra-1, Rtx-1MS, SPB-1, MDN-1, BP-1, CP-Sil 5 CB, GB-1, 007-1, OV-1, SE-30, AT-1 or ZB-1.
VICI® and ValcoBond® are registered trademarks of Valco Instruments Co. Inc. (VICI) and VICI AG.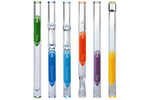 SGE GC Injection Port Liners
SGE offers a wide variety of injection port liners.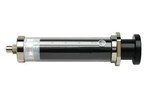 Gas Tight 10 µL to 500 µL Syringes
Plungers are interchangeable on these syringes.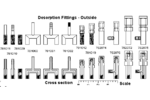 Desorption Tube Fittings
Fittings to connect our 1/4" O.D. GLT desorption tubes to your particular application.
ValcoBond VB-WAX Polyethylene glycol (PEG) GC Capillary Columns
Features: High polarity Excellent inertness Bonded & cross-linked Solvent rinsable Equivalent to USP Phase G16 Guaranteed