Product ID : SCC8
SCC8 Size=4 oz. jar SAUEREISEN CERAMIC CEMENT SCC850 Size=1 gal. SAUEREISEN CERAMIC CEMENT
Description
Sauereisen Electrotemp Ceramic is an excellent ceramic in applications where high electrical insulation is required and high thermal conductance is desired, as in heater elements. Coating a heater element with Sauereisen Ceramic allows you to electrically insulate the heater coils from shorting out while allowing excellent heat conductance. Other applications include mass spec probes, filaments, repair of ceramic pieces and some ceramic to metal joining.

Sauereisen No. 8 is supplied in powder form and need only be mixed with water to apply. Sauereisen hardens at room temperature or by baking. The initial set begins in approximately one to two hours and the cement continues to increase in hardness until thoroughly dried.
Features
Provides maximum electrical resistance
Heat conductive and thermal shock resistant
Excellent bonding properties
Chemical set
Easy to mix and apply
Ideal for potting applications
Odorless
Specs
Physical Properties of Sauereisen
Coefficient of thermal expansion
2.6 x 10-6 in/in/°F
(4.68 x 10-6 cm/cm/°C)
Color
Off white
Compressive strength
4500-5500 psi (316 kg/cm2)
Density
160 pcf (2.56 gm/cm3)
Dielectric constant
3.0-4.0
Dielectric strength
at 70 °F (21 °C)
at 750 °F (398 °C)
at 1475 °F (801 °C)

76.0 to 101.5 Volts/mil (2900 to 3900 Volts/mm)
25.0 to 38.0 Volts/mil (980 to 1490 Volts/mm)
12.5 to 25.0 Volts/mil (490 to 980 Volts/mm)
Maximum service temperature
2600 °F (1426 °C)
Modulus of rupture
450 psi (31 kg/cm2)
Tensile strength
250 psi (17 kg/cm2)
Thermal conductivity
10-12 Btu•in/ft2•hr•°F
(3.4-4.1 x 10-3 Cal•cm/cm2•sec•°C)
Volume resistivity
at 70 °F (21 °C)
at 750 °F (398 °C)
at 1475 °F (801 °C)

1010-1011 ohm-cm
109-1010 ohm-cm
108-109 ohm-cm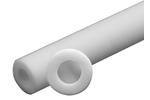 Single Hole Round Ceramic Tube Insulators
The tubes are constructed of a pure 99% alumina ceramic that has superior gas and vacuum tightness and excellent insulating properties even at elevated temperatures.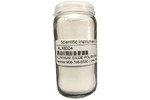 600 Grit Aluminum Oxide Cleaning Abrasive
The ALX6004 superfine aluminum oxide cleaning abrasive is the finest grit aluminum oxide abrasive.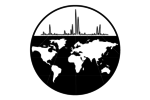 Nichrome Wire, Nickel Chromium Ribbon, Non-Magnetic Alloy for Heating Elements
Buy Nichrome Wire, Non Magnetic Ribbon for mass spectrometer heaters here. Choose from varying thickness, Nichrome filament wire sold by the foot.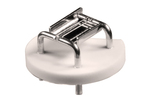 Varian Saturn Ion Trap Filaments
Quality replacement filaments for your Ion Trap mass spectrometer. For Saturn model 2000, 2100, 2200 series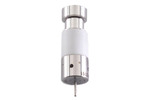 Electron Multipliers, DeTech 2300 Multipliers for Agilent 5975/5973/597X/1100
Get a DeTech 2300 Electron Multiplier here. Used in Agilent 5975 MSD (without TAD)/5973/5972/5971/5970/1100 LC-MSD mass spectrometers and backed by a 100% no-nonsense warranty. Developed by Detector Technology, Inc.