Features
Connect various combinations of thread types, male and female
Includes male and female Luer adapters
Low dead volume
Completely inert and biocompatible
Description
We offer male and female Luer adapters as well as adapters to connect standard LC fittings to standard LC ports.

The 100% PEEK flowpath makes VICI Jour PEEK adapters usable with most common organic and inorganic HPLC solvents without risking corrosion, metal contamination, or protein degradation that might occur with stainless steel.

Sold individually.
ADAPTER, PEEK
Part No.
Description
Price
EA
Order
JR062
10-32 FEMALE TO 1/4IN-28 FEMALE
$10.00
JR5595
10-32 FEMALE TO M6 FEMALE
$10.00
JR5505
M6 FEMALE TO 10-32 MALE
$11.30
JR0611
WATERS FEMALE TO 10-32 MALE
$13.00
JR0612
1/4IN-28 FEMALE TO 10-32 MALE
$35.00
JR062
10-32 FEMALE TO 1/4IN-28 FEMALE
$10.00
JR0617
10-32 FEMALE TO 1/4IN-28 MALE
$35.00
JR0622
1/4IN-28 FEMALE TO M6 MALE
$35.00
JR0623
10-32 FEMALE TO FEMALE LUER
$27.80
JR0625
1/4IN-28 FEMALE TO FEMALE LUER
$20.00
* Standard lead-time for non-stock items is approximately two weeks depending on the item.
Ordering information. International (non-US) prices available through your local dealer.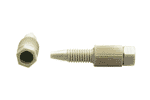 VICI PEEK One-piece Hex-head Nuts
Our PEEK one-piece hex-head nuts are easy to use with our Smartwrench and Colortite extensions.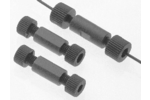 VICI PEEK™ Unions
Connect two pieces of 1/16" or 1/8" tubing.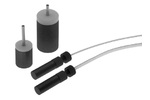 VICI Mobile Phase Filter/Sparging Frits
Sparging Frits for your lab needs.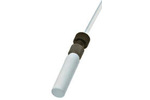 VICI Biocompatible Mobile Phase Filter
Great for LC/MS of proteins and IC applications.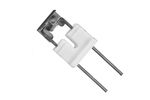 Waters/VG Autospec Filament
VG and Vestec Mass Spec filaments by SIS - ribbon design.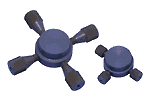 VICI PEEK High Pressure Crosses and Tees
Compatible with most organic solvents and buffers.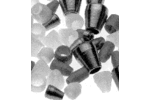 VICI Ferrueles for SIS Fittings
HPLC ferrules made to fit the size needed.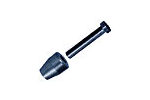 VICI PEEK Two-piece Fingertight Fittings and Micro-Ferrules for Capillary Tubing
HPLC Use micro-ferrules for holding fused silica tubing, electrospray tips, etc.