Description
Completely metal-free, this accessory has a built-in, 100% biocompatible 5 µm filter. Introduction angle and PEEK/PTFE filter provide more complete mixing than with a conventional Tee. With total dead volume of only 4 µl and a 420 bar (6000 psi) pressure capacity, this unit is great for high pressure gradient mixing as well as post-column reactions!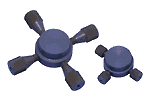 VICI PEEK High Pressure Crosses and Tees
Compatible with most organic solvents and buffers.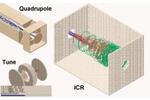 SIMION® 8.1


(Ordering Information)
The Industry Standard in Particle Optics Simulation Software Description Design new instruments or improve the sensitivity of existing instruments. Mass spectrometers and other ion optics lens systems. Calculate electric and magnetic fields from 2D & 3D models Calculate charged particle trajectories Visualize, optimize, and analyze results Extensible user programming for crazy flexibility. Free basic tech support, phone/e-mail/message board. Widely commercially and in academia, including by...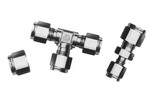 Swagelok® Fittings
A complete line of Brass and Stainless Steel Fittings for GC, MS and general laboratory use.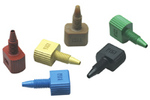 VICI HPLC One-Piece Fingertight Fitting
Works with any 10-32 female port and both metal and polymeric 1/16" tubing.