Description
Completely metal-free, this accessory has a built-in, 100% biocompatible 5 µm filter. Introduction angle and PEEK/PTFE filter provide more complete mixing than with a conventional Tee. With total dead volume of only 4 µl and a 420 bar (6000 psi) pressure capacity, this unit is great for high pressure gradient mixing as well as post-column reactions!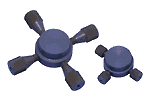 VICI PEEK High Pressure Crosses and Tees
Compatible with most organic solvents and buffers.
ValcoBond VB-5 (5%-Phenyl)-methylpolysiloxane GC Capillary Columns
Features: Nonpolar Low bleed MS certified High temperature limits (360/370 °C) Excellent inertness Bonded & cross-linked Solvent rinsable Equivalent to USP Phase G27 Guaranteed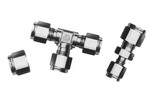 Swagelok® Fittings
A complete line of Brass and Stainless Steel Fittings for GC, MS and general laboratory use.