Product ID : JR550105
JR550125 Color=Green Color-It Fingertight adapter, 5pkg JR550155 Color=Red Color-It Fingertight adapter, 5pkg JR550145 Color=White Color-It Fingertight adapter, 5pkg JR550105 Color=Blue Color-It Fingertight adapter, 5pkg JR550115 Color=Yellow Color-It Fingertight adapter, 5pkg JR550135 Color=Black Color-It Fingertight adapter, 5pkg
Description
We recommend the Colortite snap-on fingertight conversion for color-coding 1/4" hex-head nuts (P/N JR551005, JR551105, JRZN15, JR575, & JR585). These items are useful for color-coding different solvent lines, and they instantly turn your hex-head nuts into fingertight fittings. Colortites can be used with any 1/4" PEEK or stainless nuts. Each pack of 10 is available in one of six colors, or you may order the assortment pack with 5 pieces of each color.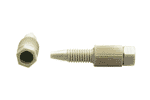 VICI PEEK One-piece Hex-head Nuts
Our PEEK one-piece hex-head nuts are easy to use with our Smartwrench and Colortite extensions.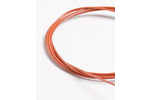 PEEK Tubing
SIS offers two types of PEEK tubing: Solid color coded tubing, and natural tan tubing with a color coded stripe.