Features
High pressure rating - up to 420 bar (6000 psi)
Ideal for 1/16" PEEK tubing
Fit any 10-32 fitting
Description
These nuts are for use with VICI Jour double ferrules, which grip the tubing twice for added stability. The fingertight version may be hand-tightened for operation at up to 420 bar (6000 psi). The hex-head version can be used for connections that are difficult to reach, or are closely spaced. The fittings work in virtually any female 1/16" fitting.
Pkg=5
Part No.
Description
Type
Picture
Price
/PK
Order
JR55115
Nut
hex-head short
$25.00
JR55105
Nut
hex-head long
$25.00
JR55805
Nut
Fingertight
$25.00
JR50045
Ferrule
double
$14.00
Unit of measure for ordering is PK.
* Standard lead-time for non-stock items is approximately two weeks depending on the item.
Ordering information. International (non-US) prices available through your local dealer.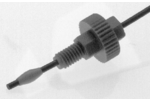 VICI Universal Fingertight Fitting
Connects with any male or female 10-32 fitting.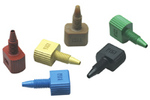 VICI HPLC One-Piece Fingertight Fitting
Works with any 10-32 female port and both metal and polymeric 1/16" tubing.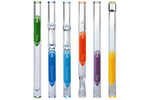 SGE GC Injection Port Liners
SGE offers a wide variety of injection port liners.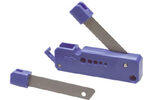 Quick-Cut for Plastic Tubing