Description
Cuts PEEK, PTFE, Tefzel, Nylon, and other plastic tubing cleanly and without crushing. This cutter has guide holes for tubing from 1/16" to 1/8" in diameter and a replaceable blade.
Cuts PEEK, PTFE, ETFE, and other polymeric tubing
No distortion to OD or ID
Ideal for the most demanding LC applications
Safety lock secures the blade
Right angles and clean cuts are essential in LC to avoid leaks and dead volume. This handy tool makes it easy to get burr-free, perpendicular ends on polymeric tubing without distorting the outside diameter and/or closing the inside diameter of the tubing. It is designed to cut PTFE, ETFE and polymers in general and PEEK capillary tubing in particular. The compact design and unique safety locking mechanism allow every chromatographer to keep one in their pocket.
TOOL
Part No.
Description
Price
EA
Order
JR797
CLEAN-CUT TUBING CUTTER
$16.50
Accessories
JR798
REPLACEMENT BLADE FOR JR-797
$2.20
* Standard lead-time for non-stock items is approximately two weeks depending on the item.
Ordering information. International (non-US) prices available through your local dealer.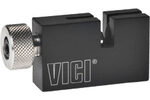 Tubing Cutter for Chromatography
Chromatography Tools available from Scientific Instrument Services, Inc.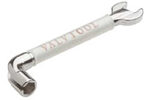 ValvTool - Smart Wrench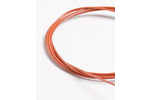 PEEK Tubing
SIS offers two types of PEEK tubing: Solid color coded tubing, and natural tan tubing with a color coded stripe.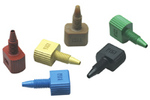 VICI HPLC One-Piece Fingertight Fitting
Works with any 10-32 female port and both metal and polymeric 1/16" tubing.