Description
ValuTemp Lowers the Cost of High Accuracy Temperature Logging
ValuTemp is a low-cost data logger that records up to 8,192 time-stamped temperature measurements from -30 ° to 70 °C with a resolution of 0.1 °C and accuracy of ±0.5 °C
The reusable logger is ideal for monitoring temperature during transit or storage. ValuTemp's green "run" lamp flashes while running, and high and low programmable alarms flash red when exposed to temperatures beyond alarm settings. The small 3.65" x 1.85" x 0.7" logger offers a two-point adjustable calibration and a push button start and stop functional option for data set size control, allowing one start and one stop per run.
ValuTemp can read in °C, °F, °K, or °R at a programmable rate of every 5 seconds or 1-5, 10, 15, 30 minutes, or 1 - 4 hours per reading. Data is displayed on a graph with zoom capabilities or data table, exportable for use in spreadsheets and other documentation. A composite graph option compares multiple loggers vs. time.
ValuTemp operates on lithium coin cell battery and uses the Telatemp MLSP support package for programming and downloading the data. The unit is also available with NIST traceable calibration.
Specs
ValuTemp Specifications
Operating Temperature
-30 °C to 70 °C
Temperature Accuracy
±0.5 °C (-10 ° to 40 °C), ±1.0 °C < -10 °C and >40 °C
Temperature Resolution
0.1 °C resolution
Storage Capacity
8,192 readings
Battery
Replaceable Lithium 3.6V
Recording Rates
5, 10, 15, 30 seconds
1-5, 10, 15, 30 minutes
1-4 hours
Data Format
Time stamped in °F, °C, °K or °R
Dimensions
3.65" x 1.85" x 0.7"
Weight
1.4 oz.
Visual Indicator
Green LED flashes every 15 seconds while operating. Red LED flashes every 3 seconds if recorded data is beyond alarm limits
---
Part No.
Description
Quantity
In Stock
Price
EA
Order
VT1
VALUTEMP DATA LOGGER
DISCONTINUED
---
---
MLSP
MLSP SOFTWARE SUPPORT PACKAGE INLCUDES INTERFACE CABLE, SOFTWARE AND OPERATION MANUAL
DISCONTINUED
---
---
MLSPUSB
MLSP SOFTWARE SUPPORT PACKAGE INCLUDES USB INTERFACE CABLE, SOFTWARE AND OPERATION; MANUAL
0†

Standard lead-time for non-stock items is approximately two weeks depending on the item.

$155.00
* Call for availability.
† Standard lead-time for non-stock items is approximately two weeks depending on the item.
Ordering information. International (non-US) prices available through your local dealer.
Telatemp Thermocouple Probes
Complete your thermometer or data logger purchase with a Telatemp thermocouple probe.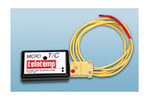 Telatemp Micro T/C Thermocouple Logger
Provides a versatile option for a broad range of temperature recording applications from cryogenics to glass with the capability to store 16,383 temperature readings per channel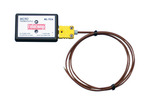 Telatemp Temperature Data Loggers - Micro Thermocouple ML-TCA Temperature Logger
Designed with an internal channel to monitor temperatures from -40 °F to +176 °F (-40 °C to +80 °C) with 0.1 °C resolution and an external channel that will accept mini-plug thermocouple types J, K, T, E, R, S, B, and N.