Description
The DL300-T is a high-value Temperature Data Logger that will record temperature exposure from -40 °C to 85 °C (-40 °F to 185 °F), with a resolution of 0.01 °C (0.01 °F) at a ±0.5 °C (±1.0 °F) accuracy.
Unlike other loggers in this class, single point offset calibration by the user is available using the Windows compatible software. The calibration function is password protected for data integrity.
The DL300-T also features a visual alarm to indicate recordings that occurred outside the user programmable thresholds. Up to 43,344 time and date stamped readings can be recorded in increments from 1 second to 18 hours. Data can be listed and/or graphed with zoom capabilities. Data can also be exported directly into Excel formats.
The DL300-T can be configured to start at a future time or on demand, and to stop recording when the memory is full or to record continuously (memory rollover).
A 3-Volt lithium battery powers the DL300-T for up to one year.
Part No.
Description
Quantity
In Stock
Price
EA
Order
DL300T
TEMPERATURE DATA LOGGER
DISCONTINUED
---
---
MLSPUSB
MLSP SOFTWARE SUPPORT PACKAGE INCLUDES USB INTERFACE CABLE, SOFTWARE AND OPERATION; MANUAL
0†

Standard lead-time for non-stock items is approximately two weeks depending on the item.

$155.00
BATTCR2032
BATTERY CR2032 3V LITHIUM
40
$6.25
DL300TSOFTWARE
SOFTWARE AND USB CABLE PACKAGE
DISCONTINUED
---
---
* Call for availability.
† Standard lead-time for non-stock items is approximately two weeks depending on the item.
Ordering information. International (non-US) prices available through your local dealer.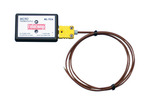 Telatemp Temperature Data Loggers - Micro Thermocouple ML-TCA Temperature Logger
Designed with an internal channel to monitor temperatures from -40 °F to +176 °F (-40 °C to +80 °C) with 0.1 °C resolution and an external channel that will accept mini-plug thermocouple types J, K, T, E, R, S, B, and N.
Telatemp Thermocouple Probes
Complete your thermometer or data logger purchase with a Telatemp thermocouple probe.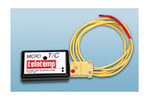 Telatemp Micro T/C Thermocouple Logger
Provides a versatile option for a broad range of temperature recording applications from cryogenics to glass with the capability to store 16,383 temperature readings per channel