---
Posted 12/4/95
Search System of SIS Internet Pages
A new Search System has been installed into our Internet pages to enable you to easily find parts, products or resource materials on out pages. Our Internet pages have increased to more than 700 pages to date and will expand to 3 or 4 times that amount within the next year. We hope that this search system will prove useful to locate the needed resources. In addition to the Search function we have also added an E-Mail Write us Button on the bottom of each page. We hope that you will write us to give us your feedback, to request additional information or to request price quotes.
---
Posted 12/04/95
New Application Notes
The Following new Application notes are now on line. These articles were presented at the November 1995 Eastern Analytical Symposium.
Application Note 35 - Volatile Organic Composition of Cranberries
Application Note 36 - Identification of Volatile Compounds in New Automobile
Application Note 37 - Volatile Organic Emissions from Automobile Tires
---
Posted 11/22/95
Eastern Analytical Symposium Poster Awards
Once again this year competition and awards were presented at the Eastern Analytical Symposium for the best poster presentations in Mass Spectrometry and Gas Chromatography.
The Mass Spectrometry award was sponsored by Scientific Instrument Services and was awarded to Sandy Overton and John Manura of SIS for their presentation on the quality of air inside new automobiles. For this presentation a study was conducted to determine the volatiles present in the air inside new cars. The major volatiles consisted of the siloxanes as well as BHT to name a few. This application note is now on the Internet. Application Note 36.
The Gas Chromatography award was sponsored by J&W Scientific and was awarded to John Manura of Scientific Instrument Services for his presentation on the selection and use of adsorbent resins. This work describes the results of the determination of the breakthrough volumes of more than 200 analytes on 7 different adsorbent resins. The details of this work are presented in the section entitled "Adsorbent Resins."
---
Posted 11/13/95
Now Completed on the Internet
As part of our efforts to add our entire product line to our Internet pages, we have just completed the two sections on our
Mass Spec Filament Repairs
and on our
Mass Spec Filament Manufacturing
. Accompanying these two sections are articles describing the
Facilities at SIS for the Repair and Manufacture of Mass Spec Filaments
, our
Machine Shop Facilities
, our
Welding and Brazing Facilities
,
Quality Control
and
OEM Manufacturing at SIS
. We will continue to add sections to these pages and hope to have the entire Mass Spec Section of our catalog completed by the first of the year.
---
Posted 10/30/95
The section of our home pages relating to the SIS Short Path Thermal Desorption System is now complete. The Short Path Thermal Desorption System mounts directly on top of the GC injection port to permit the direct thermal extraction of volatiles from solid matrix samples or adsorbent resins into the GC injection port for subsequent analysis via the GC or GC/MS. Due to its 'Short Path' of sample flow, this system overcomes the shortcomings of other systems by eliminating long transfer lines and providing for optimum delivery of samples to the GC via the shorted path possible. The technique is highly sensitive and can eliminate the need for solvents in your sample preparation.
Included in this section is a complete description of the Short Path Thermal Desorption System and accessories, Installation directions and application notes relating to thermal desorption.
Also be sure to check out the related Adsorbent Resin Section of our home pages.
---
Posted 10/25/95
Books - Now Completed on the Internet
(link outdated) Our section of books available from Scientific Instrument Services is now complete on our home pages. Included in this section are text and reference books on Mass Spectrometry, Gas Chromatography, Liquid Chromatography, General Chemistry, Laboratory Health and Safety, Resume Writting and much more. As new books become available thise pages will be continually updated.
---
Posted 10/16/95
Adsorbent resins are used in purge and trap thermal desorption applications as well as for air sampling. SIS has accumulated a vast collection of information of adsorbent resins and it is now available on the Internet. This section contains the accumulation of more than 2 years work to compile the Breakthrough Volume data on more than 200 analytes on 7 different adsorbent resins used in Purge and Trap Thermal Desorption GC. Also included are articles to aid in the selection of adsorbent resins, Backpressure data on the resins and a large number of application notes. This is the most complete collection of information on adsorbent resins ever compiled.
---
Posted 10/6/95
The mass spec tips section has just been completed as part of our home page. Most of the entries were previously reported in our newsletter - The Mass Spec Source. If you have additional questions that you would like to ask here or tips that you would like to have included in these pages,
please contact us
.
---
Posted 10/5/95
SIS has completed the downloading of our
Thermal Desorption Application Notes
to the Internet. 33 of our application notes relating the thermal desorption, cryo-trapping and headspace GC have been completed. In order to transfer our application notes to the Internet they had to be reformatted with larger graphics. As a result all the figures and charts were redone using color graphics in many cases which makes for a unique and colorful presentation of scientific data.
Next we will begin to download our past newsletters, mass spec tips and also begin to compile the articles from our previous handbooks of service and newsletters relating to mass spectrometers. We will compile and group these articles by subjects such as multipliers, filaments, sources, etc. for easy location and retrieval.
If you have any other suggestions for what should be included here, please let us know.
---
Posted 9/27/95
Repair of Finnigan TSQ-7000 Filaments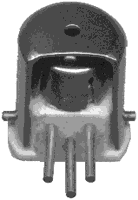 SIS can now repair the filaments for the MAT TSQ7000 mass spectrometer. This pin shaped filament requires additional time and materials to repair due to its design and packaging. Therefore the price for the repair of these TSQ7000 filaments is $50.00 each. The part number for this repair is FILREP-7000. Repaired filaments perform as well as new filaments. New filaments are not available from SIS.
---
Posted 9/27/95
Zero Air Generators - Greater Performance at Lower Cost
The zero air generator Model 75-83 listed on page C-99 of our catalog has been remodeled. This latest version air generator now produces ultra-zero (<0.1 ppm hydrocarbon content) air at flow rates up to 1000 scc/min. This performance improvement comes at the same time that the price has been decreased to $976.00, a price decrease of over $130.00 . All other performance specification remain the same.
---
Posted 9/25/95
Listing of Exact Masses and Isotopic Abundance's for the Elements
As a new useful aid for the mass spectrometer user we now have the listings of the exact masses for the elements on our web home page of up to 7 isotopes for each of the elements. In addition we have included the isotopic abundance's of each of the element isotopes in these charts. Two charts are available, a listing alphabetically according to the elements common name and Numerically according to the elements atomic number. Future additions to this section include listings of neutral loss groups and common mass spec fragment ions. If you would like to contribute to any of these sections or add a new chart or compilation of data of use to the mass spec community,
we would like to here from you.
All authors will receive credit for their contributions.
Other Useful Aid for the Mass Spectrometer User listed in our Home Pages include:
---
Posted 9/22/95
Listing of MSDS Sheet
SIS is beginning compilation of the Material Safety Data Sheets (MSDS) of the products we distribute and manufacture that require this information. This listing is still under construction but should be near complete by October 15, 1995.
---
Posted 9/17/95
A
new feature article
is now on line describing sources of GC contamination. This article fully describes methods to minimize or eliminate GC and Thermal desorption system background noise or peaks. Many users often blame Tenax® adsorbent resins for background peaks in GC Thermal Desorption applications. However our studies have shown this background does not normally originate from the Tenax but from the GC injection port and capillary column. Utilizing a high temperature flow conditioning of the GC injection port as well as proper care and maintenance of the GC and thermal desorption system background peaks can be minimized.
---
Posted 9/6/95
SIS 1995 and 1996 Meeting Schedule
Scientific Instrument Services will be at the following meetings and trade shows during the next 12 months. If you are in the area, please stop by and visit us.
       November 13-16, 1995                   
       Presentations at EAS by SIS

Pittsburgh Conference - Chicago, IL
       March 4-7, 1995                
       Presentations at Pitt Con by SIS

American Society of Mass Spectroscopy - Portland, OR
       May 12-17, 1996                
       Presentations at ASMS by SIS

---
Posted 9/6/95
SIS Now a Resource of Information on the Internet
SIS Opened their internet home page on the WWW on September 6, 1995. Initially more than 100 pages were downloaded. Major construction will continue for the next 3 or 4 months. Eventually we plan to install our entire mass spec catalog with an index to locate products. The major feature in our home page is called
MASS SPEC LINKS
. This section is designed to be a reference source of information for the mass spec community. So check it out.
---
Posted 9/6/95
SIS has developed a new probe inlet port for the HP 5988 and 5989 mass spectrometers. This inlet will eliminate the accidental venting of the mass spectrometer. A guide rod with automatic stops at the correct positions enables the safe insertion and removal of the mass spec probe.
Part # PP300  HP 5988/5989 Probe Inlet with Automatic Stops        Price: $2850.00

---
Posted 9/1/95
SIS can now supply the Triode Style Mini ion gauge tube used on the HP 5972 MSD. This is a direct replacement for the original HP ion gauge tube used on the HP 5972.
Part # 342003  HP 5972 Triode Style Mini Ionization Gauge Tube     Price:  $156.25

---
Posted 9/1/95
Scientific Instrument Services now offers the service of mass spectrometer source cleaning. Since we first advertised this service more than one year ago, many of our customers have taken advantage of this new service. This is NOT an exchange program. The same source that we receive from you is cleaned and returned back to you ready to install into your mass spectrometer. We offer 24 Hour Turn Around on Source Cleaning. Sources can be shipped and returned via Federal Express for the fastest turn around.
---
Posted 9/1/95
A new 24 page booklet is available written by John Manura of Scientific Instrument Services on the techniques and steps that have been taken to improve the performance and signal-to-noise ratios on the HP 5971 MSD's in our labs. This article combines the experience of more than 20 years of expertise in mass spec to operate the mass spec at its peak performance. The article also describes the improvement in performance by using new higher sensitivity multipliers, high grade vacuum pump oils and other products available from S.I.S.. Call or write for your
FREE
copy.
---
Posted 9/1/95
A new high sensitivity electron multiplier for the HP 5970 MSD will be
available February 15, 1996
from S.I.S. This new multiplier (
Galileo Model 5772
) is manufactured by Galileo for S.I.S. and will improve the performance of your MSD by a factor of at least 4 times. This is accomplished by improving the signal to noise ratio and new design changes which have been engineered into this multiplier. Receive a FREE HP Model 20S Scientific Calculator with the purchase of each Galileo model 5772 multiplier.
Model 5772 multiplier for the HP 5970 - $745.00
A new high sensitivity multiplier is also available for the HP 5971, 5972 and GCD instruments. The new
Galileo Model 5778
Model 5778 multiplier for the HP 5971, 5972 and GCD - $695.00
---
Posted 9/1/95
New Kratos Mass Spec Parts
A 4 page pamphlet of new parts and accessories for all models of Kratos mass spectrometers is now available. Due to the increased difficulty of getting parts for these instruments since most models have been discontinued, S.I.S. has made a commitment to increase our efforts to supply more parts for these instruments. Call for your free copy of this pamphlet.
New filaments for the Kratos are currently in the design stage and will be available shortly. We are looking for beta test sites to evaluate their performance. If you are interested, give us a call.
---
Posted 9/1/95
S.I.S. Awarded TRP Grant
S.I.S. has recently been awarded a TRP grant to develop air, water and soil sampling inlets for a field portable mass spec for environmental testing. This project is being conducted in conjunction with Teledyne, Monsanto, Phillips and Oakridge National Labs.
See Also
Tenax® is a registered trademark of Buchem BV.