Main Sections
Filament Repair at SIS
In 1978 Scientific Instrument Services, Inc. began the business of mass spectrometer filament and heater repair. During the past +35 years, we have repaired tens of thousands of mass spectrometer filaments. Our repair staff has grown from one individual to its present number of eight with additional expansion anticipated. At the same time, we have added a wide variety of technical equipment for the manufacture, repair and alignment of the filaments. This new equipment and expanded facilities has enabled SIS to repair a greater quantity and variety of filaments for mass spectrometers and other scientific instruments. In addition we have been able to improve the quality of our repairs via the use of filament alignment and tensioning jigs which have been custom designed and manufactured by our highly skilled technical staff. We presently repair filaments for almost all manufacturers and models of mass spectrometers. In addition we also repair and manufacture filaments for other scientific instruments including X-Ray generators and other techniques which utilize a resistance wire or coil filament.
Filament Manufacture at SIS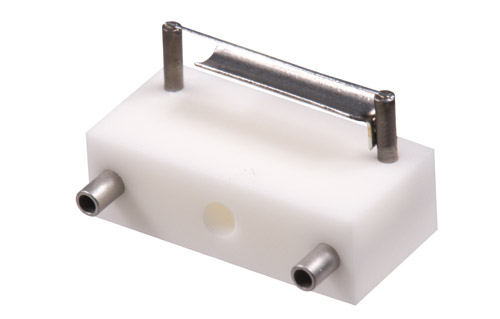 SIS Redesigned Finnigan-MAT 4000 Filament and Finnigan-MAT Incos 50B Filament
Utilizing the knowledge and experience gained from repairing thousands of filaments from a wide variety of manufacturers and models of instruments, SIS began to design and redesign filaments for mass spectrometers. We learned from the various types of filaments we repaired, which designs worked best and what could be done to increase filament life and performance. Our goal in producing new filaments is to improve the design, increase filament life, reduce the cost and improve the filament and mass spectrometer performance.
We presently manufacture filaments and heaters for more than 25 models of mass spectrometers and related equipment. In addition we custom manufacture filaments on an exclusive OEM basis for several instrument companies. If you have a need for a custom design filament, SIS can help you with the design and can manufacture the filament for you. If you are an Original Equipment Manufacturer (OEM), SIS can aid you in the design of your filaments, produce prototypes and provide you with high quality filaments with timely delivery.
A complete description of the techniques used to clean and repair mass spectrometer filaments at SIS is described in the accompanying article entitled "Mass Spec Source Cleaning Procedure".
Filament Cleaning
At SIS a wide variety of equipment and techniques are used to clean filaments before they are repaired. Probably the most useful cleaning technique is sandblasting using the Miniblaster. Glass beads abrasive is normally used to clean metal parts and aluminum oxide abrasives are used to clean the harder ceramics. Other techniques used to clean filaments such as micromesh abrasives are described in the Mass Spec Source Cleaning Procedure Article.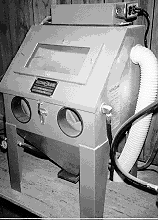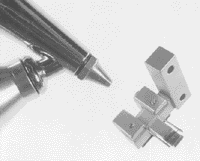 Sandblaster used to clean mass spectrometer filaments. It will remove all residues and contamination from metal and ceramic.
After sandblasting all metal parts are polished using a variety of buffing wheels, Dremel and Foredom tools to thoroughly clean and polish these metal surfaces to a bright finish. These highly polished metal surfaces contain minimal scratches and will therefore remain cleaner longer while in use in the mass spectrometer.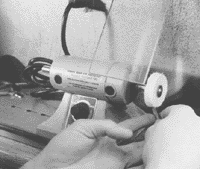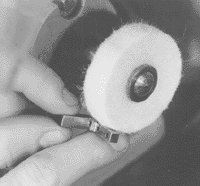 The small buffing wheel is used to polish metal filament parts to a high luster.
Precision Spotwelding
Seven spotwelder systems are used for various filament repairs and for manufacturing mass spec filaments. Depending on the filament, unique jigs have been custom designed and manufactured at SIS for the accurate alignment and tensioning of the filament wire on the filament support bracket during the spotwelding process. Shown below are two of these spotwelders with close-up pictures of the actual spotwelding of rhenium wire to the filament supports.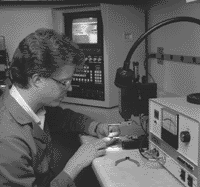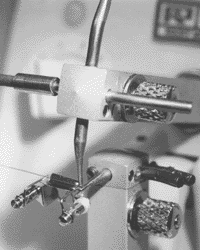 Our SW110B miniature spotwelder is used to repair the Finnigan MAT 3200/5100 filaments.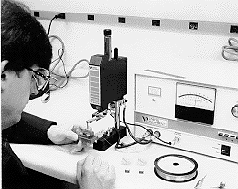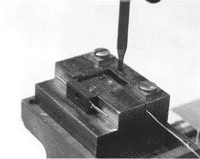 One of two larger capacity spotwelders used in our shop to repair Hewlett Packard MSD filaments.
Mass Spectrometer Filament Alignment
After all filaments are repaired we conduct a quality control procedure to assure the accurate alignment of the filament wire. Using a video microscope enables us to accurately align the filament wire over the mass spec source ion entrance hole as well as perform quality control inspections of the filament and the welding process. The Video Inspection equipment has proven to be a valuable tool, not only for the repair of mass spectrometer filaments, but for high quality manufacturing as well.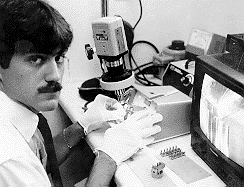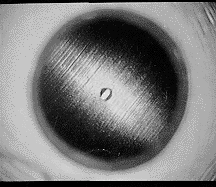 Video Inspection System is used to view filament ribbon aligned over ion entrance hole
Filament Research and Development
Over the years SIS has conducted an intensive program on filament testing and design for mass spectrometers. Most of the data has been published in previous editions of our newsletter, "The Mass Spec Source". The equipment shown below was constructed by our staff for some of our early studies to analyze various filament operating parameters. It consists of a vacuum chamber with a Bayard-Alpert ion gauge meter, filament and accelerating voltage power supplies, and a wide assortment of voltage, current and oscilloscope meters to measure the filament performance. We have also utilized a customized Dupont magnetic sector mass spectrometer for filament research. The data generated is reported in our newsletter, "The Mass Spec Source" and is utilized by our staff for the repair and manufacture of mass spectrometer filaments.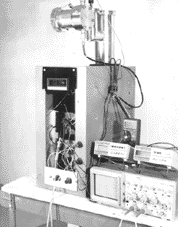 Custom built filament testing unit.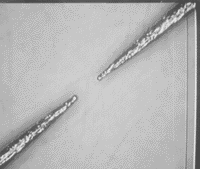 Hewlett Packard filament burned out after 30 hours continuous operation at high current.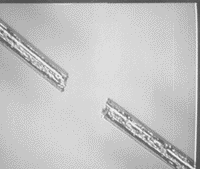 Hewlett Packard MSD filament burned out due to excessive filament current.
The work at SIS on filament design and performance is a continuing project. Custom research projects can be contracted with S.I.S. by calling John Manura or Chris Baker.