Description
SilTite™ FingerTite is the next generation ferrule system for gas chromatography systems delivering an easy leak free installation for capillary columns without the use of any tools.
Easy • Reliable • Leak Free • No Tools
What is SilTite™ FingerTite? It's a GC ferrule that has been designed to be installed only with the force of your fingers (no tools required) delivering an easy, leak and maintenance free seal.
Who will benefit from this product? If you are running a capillary column equipped gas chromatography system, SilTite™ FingerTite will simplify your column installation process giving you less hassle and more time for chromatography.
GCMS users SilTite™ FingerTite has been developed with the unique, leak and air free properties of SilTite™ ferrules, resulting in superior air tightness to reduce background noise in sensitive MS applications meaning you can use them on your MS interface with confidence.
Specs
How is it a 'next generation connection'? See charts below.
| | 100 % Graphite | Graphite Vespel® | SilTite™ FingerTite |
| --- | --- | --- | --- |
| Mechanical Strength | Soft | Hard | Hard |
| Temperature Limit | 450 °C | 350 °C | No practical limit |
| Grip strength on column | Soft | Moderate | Strong |
| Doesn't need retightening after installation | Y | N | Y |
| Ideal for GC-MS applications (minimal porosity) | N | Y | Y |
| No tools required for installation and removal | N | N | Y |
| Permanent positioning of ferrule | N | N/Y | Y |
| No Deterioration | N | N | Y |
| Cannot break the capillary column with over-tightening | N | N | Y |
| No Column Creep | N | N | Y |
| Chemically inert | N | N | Y |

How do I install SilTite™ FingerTite? The SilTite™ FingerTite ferrule requires a unique adapter to enable the finger force connection. Purchase one of the following starter kits with the corresponding adapters for your system, complete the once off 5 minute install using the instructions provided and you are ready to go! The system requires no permanent instrument modifications, so if you need to switch back to conventional connections this can be done quickly and easily.
FAQ
Q1 Can I reuse the ferrules?
A1 Once the ferrule is crimped onto the tubing using the ferrule installation tool, the fitting is permanent. However, the column can be removed and reinserted multiple times without tools.
Q2 Can I break my column if overtighten the nut?
A2 No - with the SilTite™ FingerTite system you cannot generate enough force with your fingers to break the column. Never use pliers or any other tool on the nut or you will possibly damage the adapter as well as break the column.
Q3 Can I touch the nut even when the oven is at 200 ºC?
A3 No - the nut will be at the oven temperature so it will be too hot to touch. However, the nut is designed to dissipate the heat from the injector/detector/transfer line, so that when the oven is cool you can change the column without waiting for the injector/detector to cool down. For Mass Spectrometers always follow the manufacturer's recommendations to vent the system.
Q4 Can I reuse the SilTite™ FingerTite nuts?
A4 Yes, the nuts can be reused although the nuts will be permanently fixed to the column with the ferrule. Spare nuts can be purchased if more are required.
Q5 What's included in the starter kit?
A5 Each starter kit includes all the parts necessary to convert one GC system (one injector and one detector) to the SilTite™ FingerTite system suitable for installing 0.1 - 0.25 mm ID capillary columns. In addition there are 5 SilTite™ FingerTite nuts, one packet (10 ferrules) of 0.4 mm ID SilTite™ FingerTite ferrules and a ferrule install tool which allows you to seat the ferrule in the correct position on the capillary column.
Q6 Can I use any dimension of GC capillary column?
A6 SilTite™ FingerTite is suitable for any GC capillary column of nominal ID 0.1 - 0.25 mm (0.4 mm ID SilTite™ FingerTite ferrule) and 0.32 mm (0.5 mm ID SilTite™ FingerTite ferrule).
Part No.
Description
UOM
Price
Order
073610
SILTITE FINGERTITE AG INJ / FID STARTER KIT
EA
$284.80
073612
SILTITE FINGERTITE AG-MS STARTER KIT
EA
$295.20
073620
SILTITE FINGERTITE SHIMADZU 2010 INJ STARTER KIT
EA
$246.30
073621
SILTITE FINGERTITE SHIMADZU 2010 INJ / MS STARTER KIT
EA
$267.10
073628
SILTITE FINGERTITE SHIMADZU 17A INJ STARTER KIT
EA
$246.30
073629
SILTITE FINGERTITE SHIMADZU 17A INJ / MS STARTER KIT
EA
$267.10
Replacement Items
073630
SILTITE FINGERTITE FERRULE 0.4MM PK10
PK
$59.50
073631
SILTITE FINGERTITE FERRULE 0.5MM PK10
PK
$59.50
073633
SILTITE FINGERTITE BLANKING FERRULE PK2
PK
$34.00
073636
SILTITE FINGERTITE FEMALE NUT PK5
PK
$95.50
073640
SILTITE FINGERTITE AGILENT INJ BASE SEAL PK2
PK
$66.90
* Standard lead-time for non-stock items is approximately two weeks depending on the item.
Ordering information. International (non-US) prices available through your local dealer.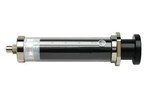 Gas Tight 1 mL to 100 mL Syringes
SGE gas tight syringes in many sizes and functions.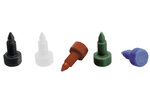 VICI Nylon Column End Plugs
HLPC - These sturdy fingertight plugs are made to hold tight, even if you drop your column!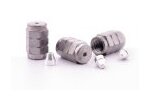 SGE Ferrules for GC
standard graphite ferrules (for GC applications)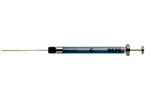 SGE MEPS™ -Micro Extraction by Packed Sorbent
The MEPS product consist of two parts, the MEPS syringe and the MEPS bin. The cartridge contains the SPE phase, and is built into the syringe needle. The bin is used with a 100 µl or 250 µl gas tight MEPS syringe that allows fluid handling at normal SPE pressures.