Description
The pumps are often used in dual-pump setups, possibly with check valves for continuous pumping so that one syringe dispenses while the other reloads.
Features
For use with the New Era continuous infusion system or dual infusion system
Provides a dual check valve for two syringes, withdraw will pull fluid from a reservoir and infusion will output into a separate line
The kit is pre-assembled, all you need to do is plug in the syringes
Each dual check valve uses 6" of 1/8" tubing to connect to a Y connector, one for the reservoir and one for output; each Y connector has 5' of tybing to make connections to your application. Two 60cc Terumo syringes are included.
Individual parts are also available
Part No.
Description
Price
EA
Order
PDKIT
DUAL PUMP PLUMBING KIT
$30.00
* Standard lead-time for non-stock items is approximately two weeks depending on the item.
Ordering information. International (non-US) prices available through your local dealer.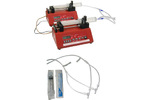 New Era Plastic and Glass Syringes and Plumbing Supplies
Syringes and Plumbing Accessories for New Era Pump Systems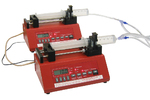 New Era Continuous Infusion/Dual Pump
The Continuous Infusion/Dual Pump System is smart, simple and saves you tons of money. With this system you have three pumps in one at a price that is less than any push/pull or emulsification syringe pump you can get from the competition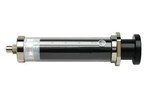 Gas Tight 10 µL to 500 µL Syringes
Plungers are interchangeable on these syringes.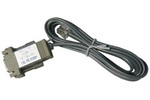 Pump-to-PC Primary Network Cable for New Era Pumps
Allows full control over syringe pumps through your computer.