The Continuous Infusion/Dual Pump System is smart, simple and saves you tons of money. With this system you have three pumps in one at a price that is less than any push/pull or emulsification syringe pump you can get from the competition. the Dual System allows two pumps to talk to one another through a cable. This allows the flexibility for the pumps to perform either continuous flow (push/pull), emulsification, or independently at any time.
Model: Dual NE-1000
Features
Built for automation
Holds 2 syringe up to 60 cc
Continuous infusion mode allows one pump to infuse as other withdraws.
Dual pump mode allows for simultaneous operation with one pump mirroring the second pump.
Easy to use keypad interface
Operates stand-alone or from a computer
Infusion and withdrawal
Infusion rates from 0.73 uL/hr (1 cc syringe) to 2100 mL/hr (60 cc syringe)
Available in Higher Pressure (Dual NE-1010) and Double Syringe (Dual NE-4000) versions. (Any two of the same syringe pumps in the NE-1000 Family of Syringe Pumps can talk to each other and be a Dual System. Any system you want to create will cost the price of the two pumps individually plus $10 for the dual cable.
Set a single pumping rate and/or dispensing volume
Program up to 41 pumping phases that change pumping rates, set dispensing volumes, insert pauses, control and respond to external signals, sound the buzzer
Network, control, and monitor up to 100 pumps with one computer
Motor stall detection
Dispensing accuracy of +/-1%
Unlimited lifetime technical support
Two year warranty
Disposable, Glass, Stainless Steel Syringes and Plumbing Supplies are sold separately
Dual Pump Plumbing Ket, the syringes and plumbing seen in the above picture completes the continuous system. (Sold separately)
Features Exclusive to Dual Pump System:
Utilizes specialized dual pump sync cable kit to synchronize both pumps, a command on one pump will update the other on the fly
Includes: 2 NE-1000 programmable single syringe pumps, sync cable kit, two manuals, and two power supplies.
Disconnect the cable kit and you have two independent syringe pumps
Model Dual NE-1000X
Features Exclusive to the Dual NE-1000X
Eliminates the problem of flow rate drop-off found in "Push-Pull" syringe pumps. In these "Push-Pull" systems, on pump is refilling while the other infuses and then they switch directions. That switch of directions causes a pause in flow. The Continuous NE-1000X's continuous pumping mode eliminates the flow rate drop-offs and pauses.
How It Works
Refilling pump refills the syringe at a faster rate than the infusing pump, giving it time to prime the syringe
Refilling pump pauses and waits for the infusing pump to empty
When the pumps switch directions, the refilled pump is primed and starts infusing at the set rate immediately
Specs
Example Flow Rates (Continuous Infusion Syringe Pump System)
Syringe Size (cc)
Maximum Rate (mL/hr)
Minimum Rate (µL/hr)
0.5 µL
25.49
0.001
1 mL
53.09
0.73
3
192.5
2.646
5
406.1
5.581
10
600
8.244
20
975.8
13.41
30
1282
17.63
60
2120
29.13
Multiple Syringe Pumps
Dual operation is also supported on our multiple syringe (channel) pumps, such as the NE4000 (2 syringe), NE1600 (6 syringe), NE1800 (8 syringe), and NE1200 (12 syringe).
One Dual pumping kit per channel is required.
Optional "X" firmware purchased for each syringe pump allows the dual operation to be continuous.
Dual operation generally is generally done without PC software (dual operation with PC software can be tricky).
Part number are not available for all combinations of dual pumps, but parts can be ordered individually, including a dual synchronization cable.
Part No.
Description
Power Supply
Price
EA
Order
Dual
DUALNE1000US
Dual One Channel Syringe Pumps
US
$1510.00
DUALNE1000AS
Dual One Channel Syringe Pumps
Australian
$1510.00
DUALNE1000BS
Dual One Channel Syringe Pumps
British
$1510.00
DUALNE1000ES
Dual One Channel Syringe Pumps
European
$1510.00
Continuous
DUALNE1000XUS
Continuous One Channel Syringe Pumps
US
$1720.00
DUALNE1000XAS
Continuous One Channel Syringe Pumps
Australian
$1720.00
DUALNE1000XBS
Continuous One Channel Syringe Pumps
British
$1720.00
DUALNE1000XES
Continuous One Channel Syringe Pumps
European
$1720.00
* Standard lead-time for non-stock items is approximately two weeks depending on the item.
Ordering information. International (non-US) prices available through your local dealer.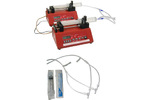 New Era Plastic and Glass Syringes and Plumbing Supplies
Syringes and Plumbing Accessories for New Era Pump Systems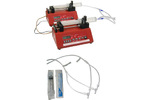 New Era Dual Pump Plumbing Kit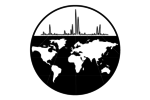 SGE BPX35 GC Capillary Columns
An MS-Premium, low bleed column with a maximum temperature up to 370 °C.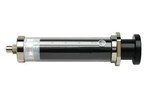 Gas Tight 10 µL to 500 µL Syringes
Plungers are interchangeable on these syringes.