Description
Lowest Syringe Carryover
The unique design of Diamond MS syringes and removable needles ensures carryover is reduced to levels lower even than the best fixed needle syringes available. In the event of needle damage, Diamond MS needles provide a cost effective alternative to purchasing an entire fixed needle syringe.
Features
Improve the sensitivity of your MS analysis:
Lowest syringe carryover
Reduced non specific sample interaction and increased analye recovery
Ultra smooth removable needles with choice of surface treatment. SGE understands how important your MS results are, and how precious your sample is. Diamond MS syringes and needles are MS ready and designed to improve the sensitivity of your MS results.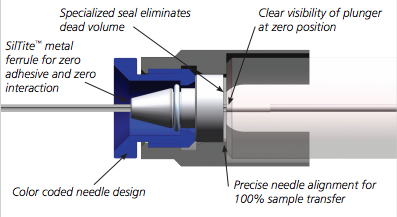 Diamond MS syringes have unbeatable clean-ability thereby further reducing carryover
Anything in the sample flow path can interact with your sample and impact your results, so SGE has developed 'Ultra Smooth'needles to reduce non specific interaction between your sample and the needle.
Specs
Reduce non-specific interaction and increase sample recovery
To reduce non specific sample interaction even further, there are two needle coating options available to avoid sample interactions due to hydrophilicity and hydrophobicity. 3 Ultra Smooth needles available for you to choose based on your sample properties:

The Choice for Sensitivity
How to choose your MS ready syringe and needle for improved sensitivity:
Choose a manual syringe or one specifically designed for your instrument
Select the syringe capacity
Choose the needle geometry – LC or GC injections, tip design and needle dimensions
Choose which 'Ultra Smooth' needle best suits your application