Product ID : SAT755
SAT755 Coaxial Foreline Trap, Body OD (in)=2 1/2, Tubulation=3/4in OD tube - 3/4in OD tube, Intended Pump Size (CFM)=5
Description
More details on associated web page:
Coaxial Foreline Traps

The CFT Series traps are an effective design, which reduces mechanical pump backstreaming to the vacuum chamber.
QF Nipples, 304 Stainless
Rigid metal extension for the union of vacuum fittings.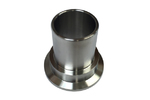 Hose Adaptor, Stainless Steel
Stainless steel nipples for clamping vacuum hose to NW flanges.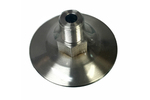 QF to Male Pipe Adaptor, 304 Stainless
Stubs have from 1/8" to 1" male NPT for junctions to NW flanges.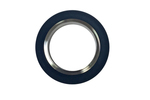 Centering Ring Assembly, 304 Stainless and Aluminum
Available with Viton® or Buna O-ring, this centering ring complete with O-ring should be used when joining any two NW flanges with a quick flange clamp.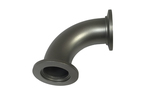 90 Degree Stainless Elbow
90 degree elbow for mating NW vacuum flanges.