Product ID : QC100JK
QC100JK Options=Quick Change Purifier QC100JR Options=Quick Change Junior Purifier
Features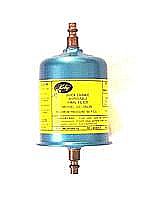 Installed and replaces within seconds
No pipe tape or sealants required
Completely disposable
Maintenance free
Made with adsorbent activated carbon
Particle filtration to 0.5 microns
Applications
Highly efficient units scrub the air free of typical compressed air contaminants such as oil vapor, oil mist, moisture droplets, fine particles, odors, and other foreign matter.
Specs
Installation and Replacement
Models QC100JR and QC100JK are easily installed directly in-line to air operated equipment using standard industrial interchangeable couplings. Simply snap filter disconnect plug into any manual or automatic socket and attach flexible air hose to filter outlet fitting. Turn on air supply. to replace, shut off air supply, relieve pressure in system, disconnect filter.
Components List

Shut off valve
Water separator
Connector
Regulator
Elbow
Quick disconnect socket
FINAL FILTER
Quick disconnect socket
Air hose
Quick disconnect socket
Plug
Specifications
Air Filter Model
Maximum Oil Adsorption Capacity
Air Flow 100 psig @ 2 psid (SCFM)
QC100JR
1.5 oz.
15.5
QC100JK
3.5 oz.
13.5
---