Product ID : CSSAC10050
CSSAC10050 Fitting=1/2" NPT Charcoal Filter - includes one charcoal filter element CSSAC10025 Fitting=1/4" NPT Charcoal Filter - includes one charcoal filter element
Description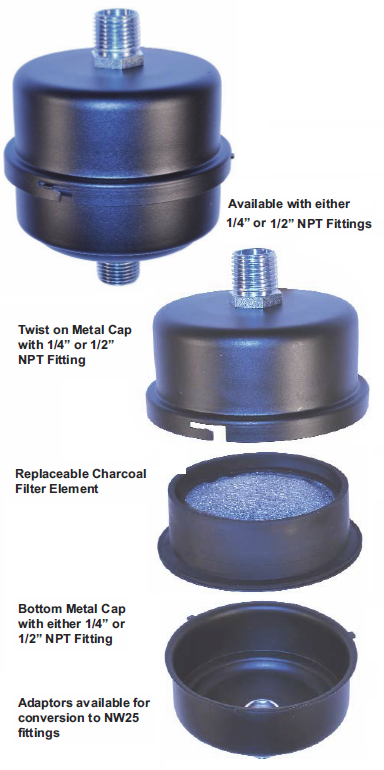 Small compact straight-through inlet air filters with replaceable hockey puck filter element. Flow through capacity up to 35 CFM (43m3/hr). Now available in two inlet sizes.
The SIS Charcoal Filters are routinely used on exhaust ports of vacuum pumps and other equipment to adsorb remaining air contaminants such as oil, aerosols, hydrocarbons and trace moisture. They also trap all foreign solid particles such as dirt, dust, rust, and pipe scale down to 10 microns in size. In addition, the SIS Charcoal Traps can be used for efficient adsorption and removal of organic vapors and aerosols, noxious odors, certain foreign gases, bacteria, and are efficient in removing certain organic vapors and aerosols from compressed air and vacuum air.
Applications
Vacuum Pump Exhaust
Low Pressure Applications
Vacuum Packaging
Intake Suction Filters
Vacuum Lifters
Pneumatic Conveyers
Factory Automation
Leak Detection
Woodworking
Intake Suction Filters
Features
Activated Carbon Replaceable Filter Element
High Efficiency Filtration
Low Operating Cost
For Vacuum or Low Positive Pressure Flow
Durable Carbon Steel Housing
Available with 1/4" or 1/2" NPT Connectors
Small Compact Size - Only 2.5" Diameter
Temperature (continuous) min -26 °C max 104 °C
Direct Replacement for the Koby Filters
Sizes
The SIS Charcoal filters are available with either 1/4" or 1/2" NPT male fittings ( National Pipe Threads) on both ends.
Adsorption Capacity
The activated carbon used in the manufacture of the SIS Charcoal Filters has a huge internal and external surface area with an affinity for adsorbing organic contaminants. Each gram of carbon has a surface are of approximately 1500 sq. meters, making these filters particularly efficient for most air purification and gas phase applications. Actual adsorption capacity can be as high as 80% of carbon weight depending on the specific compound being removed. Generally (but not always) adsorption capacity increases with molecular weight, boiling point, and concentration of contaminants. Compounds with low molecular weight, and/or highly polar compounds will not be sufficiently adsorbed at low concentrations.
AC-10 is rated for 35 SCFM.
Replacement Element
The filter elements in the SIS Charcoal Filters are easily replaced. The activated carbon replacement elements are low in cost and disposable.
Dimensions
Dimensions
Part No
Inlet Size
Diameter
Overall Length
CSS-AC-10-050
0.50 NPT
4.13"
5"
CSS-AC-10-025
0.25 NPT
4.13"
5"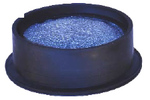 Replacement Charcoal Filter Element
The filter elements in the SIS Charcoal Filters are low in cost and disposable.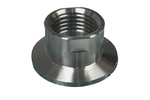 Flange Adapter to 1/2" NPT, Stainless
Flange Adapter in Stainless Steel
SIS Pump Oil Mist Eliminator
When vacuum pumps are first turned on they usually emit a considerable quantity of oil vapors into the air.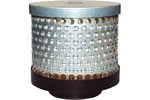 Coalescing Filter Replacement Element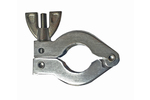 Wing-Nut Aluminum Clamp
Industry standard die-cast aluminum clamp.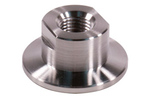 1/4" NPT, 304 Stainless Steel
Koby Fitting in Stainless Steal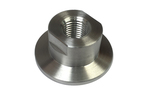 Flange Adaptor to ¼" NPT, 304 Stainless Steel, Brass, Aluminum
In Aluminum, Stainless Steel, and Brass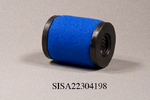 SIS Replacement Elements For Edwards Oil and Odor Filters - EMF10
SIS Replacement Elements For Edwards Oil and Odor Filters at a low cost.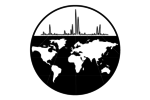 Parts for BOC Edwards Vacuum Pumps


(by Precision Plus)
19201007 : OEM=Edwards,Part Type=Valves,Description=Valve Piston,Pump Models=E1M40;E2M40,20404011 : OEM=Edwards,Part Type=Bearings,Description=Roller Bearing EM40,Pump Models=E1M40;E2M28;E2M30;E2M40,25904601 : OEM=Edwards,Part Type=Misc,Description=Ballast Valve E1M80,Pump Models=E1M40;E2M40,29201006 : OEM=Edwards,Part Type=Sight Glasses,Description=Sight Glass E1M80,Pump Models=E1M40;E1M80;E2M40;E2M80,00307046 : OEM=Edwards,Part Type=Springs,Description=SPRING,Pump Models=E1M18;E2M18,00714012 :...