Features
Prevents pollution of work environments
Minimal H2O Pressure Drop
Completely disposable
Maintenance Free
Made with adsorbent activated carbon
Particle Filtration to 0.5 microns
Applications
Disposable Vacuum Pump In-Line Air Purifiers, Models VP100, VP200, VP300, and VP400 are specifically designed to remove harmful organic vapors, aerosols, fine particles, and other foreign matter from vacuum air and compressed air. Units prevent pollution of laboratory and industrial work environments. Models 250JCB, 500SKB, MF2KCB, and MF4SKB Vacuum Pump In-Line Air Purifiers are recommended for installation after mercury filled manometers, instruments and other calibration equipment. Unlike VP Series Purifiers, units are supplied with impregnated carbon for efficient adsorption of hazardous mercury vapor not readily removed by standard activated carbon
Click here for a general list of contaminants removed by this air filter.
Installation and Replacement
Units can be easily installed directly to vacuum pump, or system piping using standard NPT pipe fittings. Replace according to specified manufacturer's replacement, or when noticeable odor is detected on purifier discharge. When used only to remove fine particles, replace every six months from date of installation.
Specs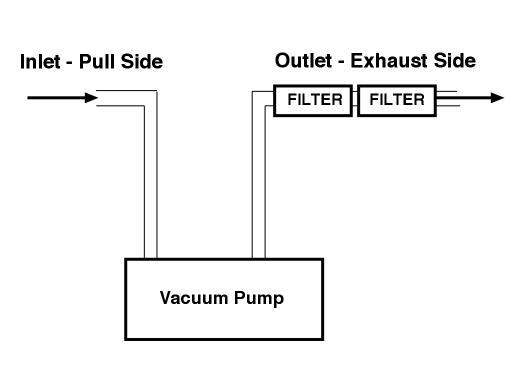 Specifications
Air Filter Model
Maximum Oil Adsorption Capacity
Maximum Air Flow 100 psig
at 1psid (SCFM)
VP100
1.0 oz.
19.0
VP200
1.5 oz.
10.7
VP300
3.5 oz.
15.8
VP400
3.5 oz.
14.6
250JCB
N/A
18.0
500SKCB
N/A
9.5
MF2JKCB
N/A
14.8
MF4SKCB
N/A
13.7
Mercury Removal
Models 250JCB, 500SKB, MF2KCB, and MF4SKB are manufactured with a high grade impregnated carbon specifically use for mercury adsorption. Each gram of carbon can adsorb approximately 5% of its own weight in mercury vapor. For best results, install purifier on discharge side of vacuum pump. Monitor mercury levels routinely on purifier outlet to insure effectiveness, and replac when mercury levels exceed permissible exposure levels. When removing heavy concentrations of mercury over 1500 µg/m3, it is advisable to install purifiers in series as shown below for added protection.