Heavy-duty thermometer offers versatility and accuracy in a compact design
Description
These robust and reliable meters work in any environment from the lab to the production floor. The sturdy optional armor protects against knocks and jars. All models are ergonomically designed for both large and small hands alike. The sealed keypad and ABS case meet IP54 standards for splash resistance.
Features include a large easy-to-read illuminated display, an easy-to-use five-button control panel, Min/Max, Hold, °F / °C switchable, auto shutoff, and low battery indicator. Each thermometer is individually factory calibrated. Automatic field calibration is easily performed. Simply place the probe in a container packed with ice, fill with water, then press the "CAL" button-meter automatically recognizes the freezing point.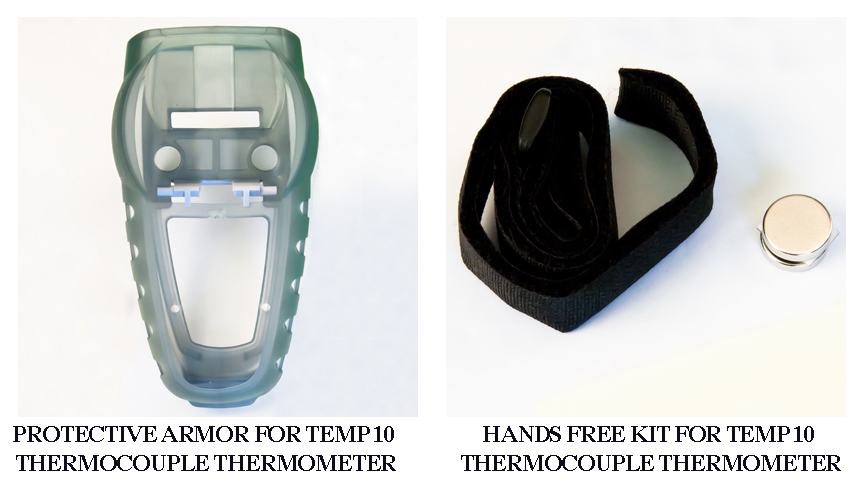 Optional 3-way hands-free kit.
Large easy-to-read screen with back light.
Optional rugged armor-built to withstand the toughest conditions.
Easy-to-use automatic field calibration ensures accurate readings.
Available in models for J, K, or T input
Specs
Specifications
Type
J, K, and T models available
Temperature Range
J: -346 °F to 2192 °F (-210 °C to 1200 °C) K: -418 °F to 2501 °F (-250 °C to 1372 °C)
T: -418 °F to 752 °F (-250 °C to 400 °C)
Temperature Accuracy
Below -238 °F (-150 °C): ±0.25% of reading ±2 °F (±1 °C)
Above - 238 °F (-150 °C): ±0.1% of reading ±0.7 °F ±0.4 °C)
Temperature Resolution
0.1 °F/C between -199.9 ° and 999.9 °;1 ° below 199.9 ° and above 999.9 °
Input Connector
Mini Connector
Display
4-digit LCD (6 x 15 mm digits), viewing area 58 x 40 mm (Backlit)
Power
3 AAA batteries (included)
Probe
not included
Dimensions
4.0" x 7.0" x 1.5"D (w/o armor); 4.0" x 7.0" x 2.0"D (w/ armor)
Weight
0.58 lbs.
Part No.
Description
Quantity
In Stock
Price
EA
Order
3542710
TEMP 10 THERMOCOUPLE TYPE K
DISCONTINUED
---
---
3542700
TEMP 10 THERMOCOUPLE TYPE J
DISCONTINUED
---
---
3542720
TEMP 10 THERMOCOUPLE TYPE T
DISCONTINUED
---
---
3542780
PROTECTIVE ARMOR
DISCONTINUED
---
---
3542785
HANDS FREE KIT REQUIRES PROTECTIVE ARMOR 354-2780
DISCONTINUED
---
---
* Call for availability.
Ordering information. International (non-US) prices available through your local dealer.