Benchtop or Wall Mount Thermometers automatically Display, Record and Output Temperature Readings
To monitor temperatures during simultaneous process steps or phases, a scanning thermometer is ideal. Both of these models function as a datalogger, storing data for later use. Temperature data is sequentially captured, allowing user to monitor and record process variations - ideal for statistical process control. The front panel MENU key allows user to program datalogging and print intervals, scan rate, date and time, temperature scale, resolution, channels displayed, thermocouple type and data output parameters. Each channel features HOLD, STORE, MAX and MIN, RECALL and AVERAGE buttons.
Benchtop Thermometer
This unit accepts any power source allowing for great flexibility as to where and when it may be used. A parallel printer connection (parallel cable sold separately - #220504) enables you to connect to a printer, providing a hard copy of your data. It accepts thermocouple probes with mini-connectors for quick and easy changes. Unit powered with 10-25 VDC (115 VAC or 230 VAC power adapter included) or 7 to 20 VAC 500 mA (optional, user supplied).
Wall Mount Thermometer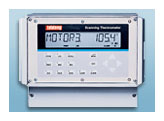 Features an easy-to-view drip-proof housing with all wire connections on the bottom. Unit powered with 100-240 VAC, 50/60 Hz. It accepts thermocouple probes with stripped ends. Unit powered with 100-240 VAC, 50/60 Hz. Supplied with American NEMA line cord 115 VAC.
Features
Automatically stores up to 4,680 sets of readings with date and time
Links up to 8 units together to expand channel capacity
Each channel is calibrated separately to minimize probe offset
Factory calibration to NIST-traceable standards
High or low alarm points can be set for each channel
Large 3/4" high, 14-segment, 12-character alphanumeric LCD numbers
Warning light signals open probe or out-of-range readings
Scans and logs up to 12 thermocouple inputs from any combination of J, K, T, E, N, B, R and S thermocouple probes
Datalogging and printing intervals can be varied from 4 seconds to 99 minutes, 59 seconds
12-Channel Scanning Thermometer Specifications
Temperature Range
J:-200°C to 1000°C (-392°F to 1832°F)
K:-250°C to 1372°C (-418°F to 2501°F)
T:-250°C to 400°C (-418°F to 752°F)
E:-250°C to 1000°C (-418°F to 1832°F)
N:-250°C to 1300°C (-418°F to 2372°F)
R:0°C to 1768°C (32°F to 3214°F)
S:0°C to 1768°C (32°F to 3214°F)
B:200°C to 1800°C (392°F to 3272°F)

Temperature Accuracy
J, K, T, E, N:± 0.1% of reading ±0.5°C (±0.5°F) above -150°C; ± 0.25% of reading ±1°C (±2°F) below -150°C
R,S,B:± 0.1% of reading ±2°C (±4°F
Temperature Resolution
0.1° selectable below 150°C
Display Update Rate
3 sec/channel
Scan Rate
4 sec/12 channels to 99 min. 59 sec./12 channels
Alarm Output
SPDT high/low relays are rated at 250 VAC 2A or 2A at 30 VDC resistive (wall mount units only)
Digital Output
RS-232, ASCII format, baut rate 19.2K,RJ11 connector (Benchtop unit only: Centronics parallel printer output; DB25F connector)
Dimensions
Benchtop: 7 1/2"L x 10 1/2"W x 3 1/2"H
Wall mount: 5 1/2"L x 11 1/4"W x 8 1/2"H
Weight
Benchtop: 3 lbs. (1.4 kg)
Wall mount: 4 lbs. (1.8 kg)
Each unit includes free Windows® 95/98, NT compatible software that controls and displays up to eight scanners simultaneously. Logged data may be saved to a disk or file and imported into spreadsheet or word processor.
---
Powerbright Step Up/Down Converter 110-220V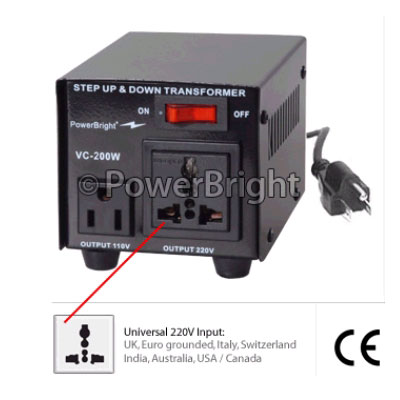 This voltage converter can be used in 110 volt countries and 220 volt countries. It will convert from 220 - 240 volt to 110 - 120 volt and from 110 - 120 volt to 220 - 240 volt.
Features
FREE grounded adapter included.
On and Off Switch
Fuse protected
2 spare fuses included
1 year parts and labor warranty


Specifications
Capacity
200 watts
Input
110/200/220/240 Volt
Output
110/220-240 Volt
Dimensions
3.7"W x 3.6"H x 5.2"D
Weight
4.62 lbs.
---
Part No.
Description
Quantity
In Stock
Price
EA
Order
6920000
BENCHTOP MODEL (WITH 115 VAC)
DISCONTINUED
---
---
6920230
BENCHTOP MODEL (WITH 230 VAC)
DISCONTINUED
---
---
6921000
WALL MOUNT MODEL WITH 115 VAC
DISCONTINUED
---
---
6921230
WALL MOUNT MODEL WITH 230 VAC
DISCONTINUED
---
---
2205004
PARALLEL CABLE
DISCONTINUED
---
---
VC200W
STEP UP/DOWN POWER CONVERTER 110V/220V
DISCONTINUED
---
---
* Call for availability.
Ordering information. International (non-US) prices available through your local dealer.