Description
| Name | Description | Material | Max Temp | Image |
| --- | --- | --- | --- | --- |
| EC | Combines significantly longer injection life, low bleed and low injection port adhesion | High temperature silicone | 400 °C, 330 °C for 17mm size | |
| MN | Premium septum for autosamplers with up to 400 injections per septum | High temperature silicone | 320 °C | |
| HT | Bleed and temperature optimized, combined with outstanding mechanical properties for the highest temperature applications. Retains softness and pierceability at high temperatures and low injection port adhesion. | BTO silicone | 350 °C | |
SGE Septa for Thermo, 8000 Series, FOCUS, Trace/ULTRA GC, Diameter=17
Part No.
Septum Type
Pack Size
Picture
Quantity
In Stock
Price
/PK
Order
0418505
MN
48
DISCONTINUED
---
---
0418990
HT
24
DISCONTINUED
---
---
041903
EC
24
DISCONTINUED
---
---
Unit of measure for ordering is PK.
* Call for availability.
Ordering information. International (non-US) prices available through your local dealer.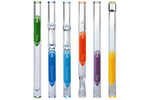 SGE GC Injection Port Liners
SGE offers a wide variety of injection port liners.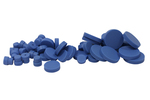 SGE Septa for Agilent
Various GC septa by SGE for Agilent.