All stopcocks and movable joints in a high vacuum system must be satisfactorily lubricated, yet leak proof. The lubricant for such joints must not contribute to the pressure within the system and must be of extremely low vapor pressure at the temperature of operation. Also the lubricant must be stable, chemically inert, non toxic, easily applied and preferably easily removed when desired. Finally, the lubricant must lubricate, an obvious statement but a necessary one since so many so-called high vacuum lubricants have in fact very poor lubrication properties.
All these desirable properties are found in Apiezon greases. As with the oils, a range is offered to enable the right grease to be chosen for the job at hand. It has not been found possible to produce a high vacuum grease which is both multigrade and a good lubricant at all temperatures. The closest approach to such a multigrade grease is Apiezon Grease H which may be used over a relatively wide range of temperatures.
Types
APIEZON GREASE H
This grease, the latest addition to the Apiezon range of greases, will withstand temperatures up to 250 °C without melting. In fact, it stiffens somewhat above 40 °C. Vapor pressure is estimated to be 2 x 1 0-9 torr at 20 °C. It is of a rubbery nature and is intended for the same applications as Grease T but where higher operating temperatures are required. Grease H can be used at ambient temperature and down to approximately - 15'C, but at this temperature it becomes sticky and is no longer a good lubricant.
APIEZON GREASE L
Grease L is a petrolatum hydrocarbon grease containing no additives. It is a good, general purpose, high vacuum grade with an estimated vapor pressure at 20 °C of 8 x 1 0-11 torr. It is widely used as the stationary phase in gas-liquid chromatography, and may be used on all ground joints in a vacuum system where it is essential to have a grease with good lubricant properties combined with an exceptionally low vapor pressure. Grease L softens and melts at about 47 °C and is not recommended for joints likely to warm to over 30 °C. Greases T and H are recommended for these higher temperatures.
APIEZON GREASE M
This is a good general-purpose lubricant similar to Grease L but containing more wax. Grease M has an estimated vapor pressure at 20 °C of 2 x 1 0-9 torr, higher than Grease L, and used where a grease of such moderately low vapor pressure is adequate. It is used whenever a good lubricant is required and, being less expensive than the other Apiezon greases, is recommended for use in vacuum work and as a good lubricant for general use throughout the laboratory.
As with Grease L, Grease M is not intended for use with joints above 30 °C. Greases T or H are recommended for higher temperatures.
APIEZON GREASE N
This is similar to Grease L but contains a high molecular weight polymeric hydrocarbon additive which gives it a tenacious rubber consistency allowing the grease to form a cushion between the mating surfaces. The physical nature of Grease N makes it one of the most popular greases for use as a combined high vacuum lubricant and general purpose laboratory lubricant, particularly in burette taps. Grease N has an estimated vapor pressure at 20 °C of 8 x 1 0-10 torr, and, as with greases M and L, is recommended for use up to temperatures of about 30 °C.
APIEZON GREASE T
Also of a rubbery nature, Grease T is designed for lubricating glass taps and for general purposes where operating temperatures necessitate the use of a relatively high melting point grease.
Grease T melts at 125 °C and has an estimated vapor pressure at 20 °C of 5 x 10-9 torr. Although Grease T is particularly useful at higher temperatures it can also be used at ambient temperatures and may be applied and used at temperatures between O ° and 120 °C.
APIEZON GREASE AP 100
A blend of very low vapor pressure petroleum and polytetrafluoethylene (PTF.E.) lubricant. RT.F.E. is completely insoluble in virtually all solvents. AP 1 00 is a high vacuum grease with a softening point at 30 °C. Vapor pressure is estimated to be 8 x 10-11 at 20 °C.
APIEZON GREASE AP 101
The only grease in the range not manufactured by molecular distillation, AP 1 01 has nevertheless good vacuum properties. It is based on a heavy duty lubricating grease gelled with lithium stearate (a silicious earth), and P.T.F.E., and can be used user a very wide range of temperataures from ±40 °C to 180 °C. vapor pressure is estimated to be 5 x 10-6 at 20 °C.
---
Apiezon Grease AP 100: A high vacuum grease with a softening point of 30 degrees C. Vapor pressure is estimated to be 8 x 10-11 at 20 degrees C.
Apiezon Grease AP 101: A general purpose stop-cock grease suitable for moderate vacuum use with a very wide range of temperature from -40 degrees C to 180 degrees C. Vapor pressure is estimated to be 5 x 10-6 at 20 degrees C.
Spec Tables
| | |
| --- | --- |
| Apiezon L Grease | Ultra High Vacuum Grease, Silicone and Halogen Free |
| Apiezon M Grease | High Vacuum Grease, Silicone and Halogen Free |
| Apiezon N Grease | Cryogenic High Vacuum Grease, Silicone and Halogen Free |
| Apiezon T Grease | Medium Temperature Vacuum Grease, Silicone Free |
| Apiezon H Grease | High Temperature Vacuum Grease, Silicone Free |
| Apiezon AP101 | Anti-Sieze Vacuum Grease, Silicone Free |
| Apiezon AP100 | Ultra High Vacuum Lubricating Grease, Silicone Free |
Table 1 - Typical Physical Properties of Apiezon Greases
Property
AP100
AP101
Grease H
Grease L
Grease M
Grease N
Grease T
Vapor Pressure at 20 °C, torr
8x10-11
5x10-6
2x10-9
8x10-11
xx10-9
8x10-10
5x10-9
Approximate Melting Point
47
(a)
(a)
47
44
43
125
Specific Gravity at 20 °C
30 °C
1.042
1.036
0.981
0.974
1.35

0.896
0.889
0.894
0.887
0.911
0.904
0.912
0.905
Viscosity cP at 20 °C
100o C
766
62.3
413
29.8
Average Molecular Weight
1000
1300
950
2100
Coefficient of Expansion per °C *
0.00062
0.00066
0.00076
0.00075
0.00072
0.00073
Thermal Conductivity w/m/°C
0.216
0.202
0.192
0.189
0.176
Specific Heat at 25 °C, cal/g
0.42
(b)
(b)
(b)
(b)
Latent heat of fusion, cal/g
15.1
18.7
15.0
Volume resistivity, ohm cms
4.6x10+13
1.2x10+16
2.6x10+16
2.0x10+16
3.3x10+12
Permitivity
2.4
2.3
2.1
2.3
2.3
Loss tangent
0.096
<.0001
<.0001
<.0001
<.0001
Surface breakdown, kV at flash over
22
24
28
27
24
Electric strength, volts/mil
670
730
850
820
730
* Over temperature range 20 to 30o C
(a) Greases AP101 and H do not melt at high temperatures and consequently many of the above physical properties cannot readily be measured
(b) Specific heats of Greases L, M, N and T cannot be measured as their fusion peaks are too close to room temperature.
Table 2 - Hardness of Apiezon Greases, Usable Range of Temperature Per °C
| Apiezon Grease | Stiff | Optimum | Soft |
| --- | --- | --- | --- |
| H | -10 ° to 240 ° | 10 ° to 110 ° | |
| L, M, N, AP100 | 10 ° to 15 ° | 15 ° to 25 ° | 25 ° to 30 ° |
| T | 10 ° to 15 ° | 15 ° to 50 ° | 50 ° to 125 ° |
| AP101 | -40 ° to -10 ° | -10 ° to 150 ° | 150 ° to 180 ° |
Vapor Pressure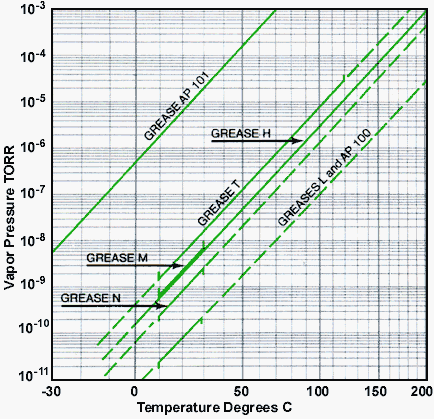 Extra Info
These properties of good lubrication and high purity are of value, not only in high vacuum work, but wherever a grease is required in the laboratory. Most of the Apiezon greases, though suitable for the purpose, would not be used for such general laboratory work because of their price but Apiezon Grease M is competitive with the best general purpose laboratory lubricants available and yet is still a high vacuum grease; it is in fact a truly general purpose grease of excellent lubricating properties.
The vapor pressure curves for the Apiezon greases are shown in Figure 2, where the solid portion of each line represents for each grease its useful working temperature range as a lubricant.
To be sure these excellent low vapor pressure characteristics are maintained until the grease is used, Apiezon greases are always packed in aluminium tubes so that they never come into contact with the atmosphere before use.
NON-VACUUM USES
Apart from their excellent lubrication properties, Apiezon greases have other notable qualities which have led to several other applications in recent years outside the vacuum field. With the exception of Apiezon Grease AP 1 0 1, all of the greases are made from the same unique feedstock containing a high proportion of hydrocarbons with extensively branched and unsaturated structures. These complex structures give Apiezon greases much higher average molecular weights than paraffinic or naphthenic greases of similar hardness, giving them much stronger powers of absorption, particularly for other hydrocarbons. This has made several of the Apiezon greases, particularly Greases L and M, useful in gas-liquid chromatography as the stationary phase in a wide range of analytical processes for hydrocarbon and other organic materials.
The strong absorption properties of Apiezon greases (and waxes) give them powerful 'gettering' action, i.e. the power to absorb greasy or chemical impurities on metal or glass surfaces. This is of considerable value in electronic applications where scrupulous cleanliness of metal surfaces is required. An Apiezon grease has no contaminating effect on electrical equipment and is easily removed by hydrocarbon or chlorinated solvents, taking with it many trace impurities which are not removed by solvents.
Apiezon greases are of considerable value in protecting metal relay contacts in vacuum encapsuled relays since their main degradation product, carbon, conducts, whereas the degradation products of many other vacuum greases, such as silicones, are insulators and seriously interfere with the action of the relay.
Another interesting result of the complex branched and unsaturated chain structures of Apiezon greases is their strong built-in resistance to irradiation by electrons, protons, cosmic rays, etc. Apiezon Grease L, for example, shows only a comparatively small increase in viscosity of about 30% after it has been irradiated with 4 MeV electrons to a level of about 1 00 Mrads and continues to function satisfactorily as a lubricant. The lubrication properties are in fact maintained at even higher levels of irradiation, though the viscosity increases more rapidly. At these levels small quantities of gases, mainly methane and ethylene, are evolved so that the grease loses its very low vapor pressure characteristics. Nevertheless, Apiezon Greases L and M in particular are much better lubricants at high irradiation levels than other high vacuum fluids such as silicones, esters, halogenated paraffins, which decompose at levels on the order of 1 0 Mrads or less. This resistance to irradiation does not apply to Greases AP 1 00 and AP 1 01 as the solid lubricants they contain are also affected by low levels of irradiation. A general list of the physical properties of Apiezon greases is shown in Table 1.
Precautions
PRECAUTIONS: Apiezon Products - Health and Safety
Apiezon products have been widely and safely used in vacuum distillation apparatus in both industry and laboratories for a number of years. As a result they should not present a health hazard assuming normal standards of industrial hygiene and safety are followed in their handling.
All Apiezon products are bases on petroleum products of a low order of acute toxicity. However, certain individual develop a rash after repeated contact. Therefore, it is recommended that gloves be worn to handle Apiezon. If Apiezon material is inadvertently in contact with the skin, wipe the area carefully, then cleanse thoroughly using a mild soap. Should any Apiezon products be heated for application, vent the fumes and avoid breathing the warm vapors.
In terms of explosion and fire, Apiezon products are considered non-hazardous.