Description
The springs on the end of the Thermo/Finnigan 3000 and 3200 series probes (30014-21658) are available.
Part No.
Description
Quantity
In Stock
Price
EA
Order
FP7
3200 Capillary Probe Tube Springs for Finnigan 3000/3200 Probes (Finnigan #30014-21658)
DISCONTINUED
---
---
* Call for availability.
Ordering information. International (non-US) prices available through your local dealer.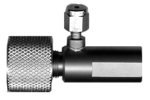 Thermal Desorption Sample Loader
This device is used to inject or load liquid samples directly into the S.I.S. Thermal Desorption Tubes, forcing the syringe contents onto the adsorbent resins in the desorption tube without any loss of sample due to back evaporation.