Description
The FAB tips used on the TSQ (Finnigan MAT#70001-20285) are available from S.I.S. In addition to the copper tip we also have stainless steel tips and gold plated stainless steel tips. Some users have found these to be a better choice for some applications.
Part No.
Description
Quantity
In Stock
Price
EA
Order
FINFAB1
TSQ FAB Tip, Copper for Finnigan 8200 (Finnigan #70001-20285)
DISCONTINUED
---
---
FINFAB
TSQ FAB Tip, Stainless Steel for Finnigan 8200
DISCONTINUED
---
---
FINFAB2
*8200 FAB TIPS GOLD PLATD
DISCONTINUED
---
---
* Call for availability.
Ordering information. International (non-US) prices available through your local dealer.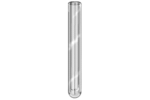 Straight Pyrex Glass Sample Vials for Mass Spec Probes
Straight pyrex sample vials.