Description
Flip-Off Tear-Off aluminum seals feature an innovative closure that provides users with an improved tamper-evident package and important consideration for user safety. Seals can be used for center tear-off and complete tear-off applications. The red plastic top will flop off easily with pressure from the thumb. This exposes the aluminum seal with center hole and pull ring. Contents can be accessed by syringe or the seal can be torn off completely by pulling on the center tear ring. This seal addresses the need for a recyclable product, especially in Europe, because it allows the complete separation of plastic, aluminum, rubber and glass after use.
Part No.
For Mouth OD mm
Shelf Pack
pkg of
Price
/Case
Order
224208
Wheaton Tear-Cap Aluminum Seals
20
100
1000
$273.52†

20 or more: 10% off; 50 or more: 15% off.

Unit of measure for ordering is Case.
† Quantity discount 20 or more: 10% off; 50 or more: 15% off.
* Standard lead-time for non-stock items is approximately two weeks depending on the item.
Ordering information. (*) Bottles generally sold only in US due to high international shipping costs of bottles.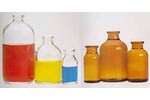 Wheaton Serum Bottles
Available clear or amber.