Description
Available in 5g, 50g, or 100g models, Telatemp's programmable UltraSHOCK+ Data Recorder is a battery-powered, stand-alone data logger that measures and records up to 174,762 date and time stamped measurements per channel.The UltraSHOCK+ measures and records temperature, pressure, and humidity at the selected reading rates, while shock in 3 axes is recorded as the peak acceleration level over the same interval.This "time bin" feature ensures that shock data is recorded at the maximum value.The storage medium is non-volatile solid state memory, providing maximum data security even if the battery becomes discharged.
The UltraSHOCK+ Recorder is designed to operate within moving environments such as vehicles, trains and ships. The device is also useful in characterizing environments such as production and assembly lines of delicate electronics, IC fabrication, communications and computer components, as well as active, vibration-sensitive pharmaceuticals. The UltraSHOCK+ is supplied with three internal accelerometers oriented for measurement of three perpendicular axes. The unit can be mounted in any orientation.
Powered by a replaceable 9V lithium or alkaline battery. Typical battery life is up to 7 days.
With the Telatemp Micro Series Software*, starting, stopping and downloading from the UltraSHOCK+ Recorder is simple and easy.Data can also be viewed in graphical, tabular, and summary form, displayed in date and time stamped gravities (g and mg), temperature (°C, °F, K, °R), humidity (%RH, mg/ml water vapor concentration), pressure (PSIA, inHg, mmHg, bar, atm, Torr, Pa, kPa, MPa) and saved to your PC as an electronic file. The data can also be exported to Excel® for further calculations.
Complete user manual can be viewed onscreen or printed out from the software.
*MLSP-USB Software & USB Interface is required.
FEATURES
Built-in accelerometers
All inclusive design
Compact
Programmable start time
High speed download
Real-time operation
Reusable
User-friendly
CE compliant
APPLICATIONS
Complete environmental shipment monitoring
Shipping live cargo
Aircraft turbulence measurement
Endurance testing
Assembly line monitoring
Brake testing
Laboratory drop testing
Machinery monitoring
Railcar coupling impacts
TO ORDER
UltraSHOCK+ Data Recorder (specify 5g, 50g, or 100g models)
MLSP-USB Software & USB Interface
ULTRASHOCK+ RECORDER SPECIFICATIONS:

TEMPERATURE
Sensor:           Semiconductor
Range:            -20 to +60ºC
Resolution:       0.1ºC
Accuracy:         ±0.5ºC (0 to +50ºC)
HUMIDITY
Sensor:           Capacitive Polymer
Range:            0 to 95%RH
Resolution:       0.1%RH
Accuracy:         ±3%RH (±2%RH typical at 25ºC)
Specified Accuracy Range:    +10 to +40°C; 10 to 80%RH
PRESSURE
Sensor:           Semiconductor Strain Gage
Range:            0 to 30PSIA
Resolution:       0.002PSIA
Calibrated Accuracy:         ±1.0%FSR at 25ºC; ±0.2% typical
SHOCK
Accelerometer Type:          MEMS Semiconductor
Acceleration Range (g):      ±5g ±50g ±100g
Acceleration Resolution (g): 0.01g 0.05g 0.1g
Calibrated Accuracy (g):     ±0.2g ±1.0g ±2.0g
Sampling Rate:    1.953 millisecond (512Hz) 
(note: data is sampled at this rate, only peak values are written at the end of a recording interval)
Accelerometer Freq.Resp:     0Hz to approx. 400Hz
Reading Rate:                64Hz to 5 minutes for shock, selectable in software. Temperature, pressure & humidity sampled approx. every 2 seconds at intervals shorter than 2 seconds. Otherwise, sampled at the reading rate.
Memory:                      174,762 readings per channel
Start Modes:                 Software programmable immediate start or delay start, up to 6 months in advance
Real Time Recording:         May be used with PC to monitor and record instantaneous measurements in real time
Password Protection:         An optional password may be programmed into the device to restrict access to configuration options. Data may be read out with the password.
Calibration:                 Digital calibration through software
Calibration Date:            Automatically recorded within device
Battery Type:                Replaceable 9V lithium or alkaline battery included
Battery Life:                7 days typical with lithium battery, 1 min. reading rate @ 25°C
Data Format:                 Date and time stamped gravities (g and mg), temperature (°C, °F, K,°R),humidity (%RH, mg/ml water vapor concentration), pressure (PSIA, inHg, mmHg, bar, atm, Torr, Pa, kPa, MPa)
Time Accuracy:               ±1 minute/month (at 2 to 30ºC)
Computer Interface:          USB (interface cable required); 115,200 baud
Software:                    XP SP3 / Vista / Windows 7
Operating Environment:       -20 to +60ºC, 0 to 95%RH non-condensing
Dimensions:                  3.5" x 4.4" x 1.0" (89mm x 111mm x 26mm
Weight:                      12 oz (341 g)
Enclosure:                   Anodized aluminum
Approvals:                   CE


---
Part No.
Description
Price
EA
Order
SHOCK+5
5GM LOGGING ACCELEROMETER
$799.00
SHOCK+50
50GM LOGGING ACCELEROMETE
$799.00
SHOCK+100
100GM LOGGING ACCELERAMTE
$849.00
MLSPUSB
MLSP SOFTWARE SUPPORT PACKAGE INCLUDES USB INTERFACE CABLE, SOFTWARE AND OPERATION MANUAL
$155.00
* Standard lead-time for non-stock items is approximately two weeks depending on the item.
Ordering information. International (non-US) prices available through your local dealer.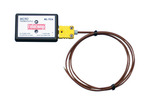 Telatemp Temperature Data Loggers - Micro Thermocouple ML-TCA Temperature Logger
Designed with an internal channel to monitor temperatures from -40 °F to +176 °F (-40 °C to +80 °C) with 0.1 °C resolution and an external channel that will accept mini-plug thermocouple types J, K, T, E, R, S, B, and N.
Telatemp Thermocouple Probes
Complete your thermometer or data logger purchase with a Telatemp thermocouple probe.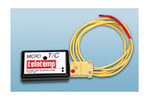 Telatemp Micro T/C Thermocouple Logger
Provides a versatile option for a broad range of temperature recording applications from cryogenics to glass with the capability to store 16,383 temperature readings per channel