Description
Backlit display, laser sighting and reading-hold provide high value in a low cost IR thermometer
Boasting the convenience and comfort of a pistol grip, this IR Thermometer has a built-in laser pointer that allows accurate aiming for non-contact temperature measurements.
The model 42529 is ideal for measuring surface temperatures that are difficult or dangerous to access. The wide range of applications includes preventive maintenance of plant rotary equipment, testing for hot spots on electrical panels, checking tires, brakes, cooling systems, HVAC installations and heat loss studies.
A large backlit LCD display makes measurements at night or in low light conditions easy and practical. Large digits assure accurate recording of readouts and an automatic seven-second data hold gives time for logging measurements. Basic accuracy is ± 2% of reading over a range of -4 °F to 518 °F (-20 °C to 270 °C) or ±4 °F (2 °C) whichever is greater. The unit is °F/°C switchable by the press of a button.
The fixed emissivity (0.95) covers 90% of surface temperature measurement applications such as organic material, painted objects, most ceramics and masonry, plastics and glass. Audible and visible overrange indicators are standard. The unit is powered by a 9V battery and has automatic power off for long battery life. The 6:1 field of view measures a 1" area at 6" from the nose of the thermometer. The area being measured increases in size as the distance to the target increases.
Features
Measures to 600 °F with non-contact safety and convenience
Large LCD display with backlighting
Built-in laser pointer for target identification
°F/°C switchable
Audible and visible over-range alarms
Automatic Data Hold
Complete with 9V battery
Applications
Measure surface temperatures of objects which are difficult or dangerous to contact
Measure hot spots in electrical panels and equipment
Troubleshoot HVAC systems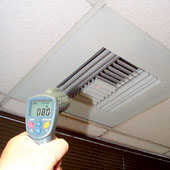 IR Thermometers are so versatile, they find their own applications. HVAC technicians use the instruments on wall and ceiling ducting to confirm airflow and temperature. Even on higher ceilings, the instrument gives accurate readings instantly. At circuit breaker boxes, the IR units can locate faulty breakers in seconds. Electric panels can be checked routinely as part of a preventive maintenance program.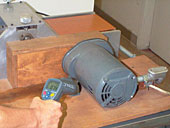 Maintenance personnel use the IR Thermometers to find faulty ballasts on fluorescent lighting without disassembling the troffer or climbing on ladders.
On rotating machinery such as motors, pumps and compressors, it's easy to check operating temperatures and determine if bearings, oil or cooling water temperatures are within normal operating ranges.
Specs
Specifications
Temperature Range
-0 °F to 600 °F (-20 °C to 320 °C)
Temperature Accuracy
±2% of the reading or ±4 °F (2 °C) whichever is greater
Temperature Resolution
1 °
Emissivity
0.95 fixed
Display
Backlit LCD
Power
9 V battery
Field of View
6:1
Dimensions
6.7"L x 1"W x 1.6"H (170 mm x 44 mm x 40 mm)
Weight
6.4 oz. (200 g)
---
Part No.
Description
Price
EA
Order
42529
HIGH VALUE THERMOMETER
$127.42
* Standard lead-time for non-stock items is approximately two weeks depending on the item.
Ordering information. International (non-US) prices available through your local dealer.